Posted on
Sun, Jun 13, 2010 : 6 a.m.
New hotel construction on Jackson Road 'on hold' as owner seeks financing
By Paula Gardner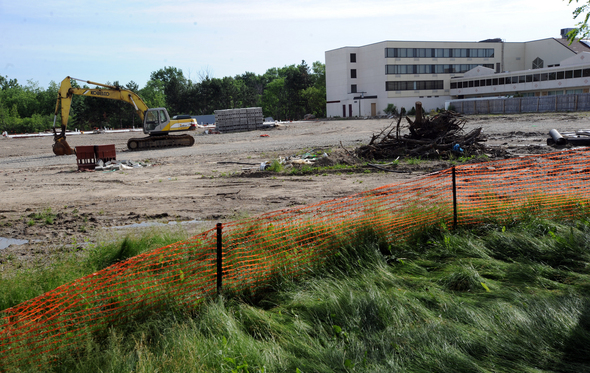 Lon Horwedel | AnnArbor.com
Developers of a new hotel on the site of a demolished Super 8 motel on Jackson Road in Ann Arbor had hoped to have the hotel well underway shortly after plans were approved in fall 2008.
The site has been cleared, heavy equipment remains on the 8-acre parcel and the property looks like a construction zone.
However, a series of delays compounded by the national financing crisis and hotel industry downturn has put the brakes on the Westside Ann Arbor project.
"It's on hold," said Akram Namou of A&M Hospitality in Center Line. "There's no financing."
He added: "The project has not been abandoned."
Namou, who owns the neighboring Best Western on Jackson Road south of I-94 between Maple and Wagner, also owns several other hotel properties in Michigan, he said.
"I'm a very qualified borrower," Namous said. "… The banks are not lending money, especially in Michigan and especially in new construction."
And that, he said, leaves the project in limbo while he tries to secure the funds to complete the $6 million project for a 102,000-square-foot, four-story Hampton Inn & Suites with 99 guest rooms.
Nationally, hotel projects are suffering some of the steepest lending downturns in a climate where many commercial real estate owners are struggling to find capital for construction loans and other financing.
At the same time, as travel declined, the average U.S. hotel's profit declined 35.4 percent in 2009, according to PKF Hospitality Research.
Ann Arbor hotel occupancy so far this year "is probably close to flat," said Mary Kerr, president of the Ann Arbor Convention and Visitors Bureau.
That follows average occupancy and daily rate data from 2009 that generated "the greatest decrease in the history of our tracking," she said.
Occupancy in 2009 was 58.9 percent, compared to a statewide average of 47.5 percent.
Still, Namou said, he hopes to restart the project. He said he's still aggressively pursuing financing.
"We have not given up because we have invested some money into the site," he said. "But we really need construction financing to do the project."
Meanwhile, from the city's perspective, the hotel is ready to move forward.
"They have an approved site plan and they've started construction," said Alexis DiLeo, Ann Arbor planner.