Posted on
Wed, Jul 4, 2012 : 5:57 a.m.
Owner unveils plans for 'NeoPapalis' pizza restaurant in downtown Ann Arbor
By Lizzy Alfs
PizzaPapalis owner Joe Sheena knows a thing or two about preparing pizzas.
But Sheena — whose family owns eight PizzaPapalis/Rio Wraps restaurants in Metro Detroit — wanted to bring something different to the market with his first Washtenaw County venture.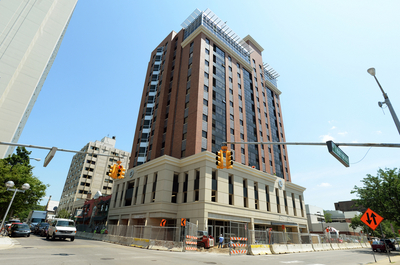 Melanie Maxwell | AnnArbor.com
Sheena signed a lease last month for the 2,521-square-foot retail space at the under-construction Zaragon West on the corner of East William and Thompson streets.
He plans to open a quick service, Neapolitan-style pizza restaurant and bar in September.
"This will be the same care and quality (our customers) have known for the last 26 years — using some of the same toppings, such as our cheese and sauce — but it's a completely different style," he said.
The restaurant, called NeoPapalis, will have four base pizzas: Margherita, Marinara, Bianca and Classico.
"It's artisan style with hand-tossed dough made from scratch every day using Italian flour," Sheena said.
Customers can then choose from different cheeses, meats and vegetables to add to the base pizzas. He plans to offer vegan cheese and a wide array of toppings, including rosemary and curry chicken. The menu also will have build-your-own salads, sandwiches and around a dozen microbrews on tap.
"The simplicity and beauty of what we're doing is there are a ton of different varieties you can do and there's a lot of simplicity to it, too," he said.
NeoPapalis' price point will be "in line with what students are looking for." Salads and sandwiches will be $5, and pizzas will range from $7 to $12.
With 200 students living right above his restaurant — Zaragon West is expected to open Sept. 1 — Sheena said he's focusing on quality and convenience to lure those customers. NeoPapalis will be open 11 a.m. to 2 a.m. seven days a week.
"People can basically come in their pajamas and pick up a pizza and go back to their rooms," he said.
He added: "We just look at ourselves as a complement to the area. Obviously, we're right next to (The Original Cottage Inn Restaurant), which has a phenomenal product, but they have their style, and we have our style."
NeoPapalis will have 52 seats, a bar area and an outdoor patio. Construction is expected to begin next week, with Novi-based PPC Design working on the project. Sheena said he'll likely hire 25 to 45 part-time and full-time employees.
Lizzy Alfs is a business reporter for AnnArbor.com. Reach her at 734-623-2584 or email her at lizzyalfs@annarbor.com. Follow her on Twitter at http://twitter.com/lizzyalfs.