Posted on
Mon, Aug 30, 2010 : 5:58 a.m.
Owners of Lucky Kitchen Chinese restaurants in Ann Arbor open Passport Restaurant & Lounge
By Janet Miller
When customers come into the new Passport Restaurant and Lounge on South State Street, kitchen and operations manager CJ Johnson wants them to think they've been on a trip around the world, with stops in Asia, Italy, France and the American southwest.
Calling it an international fusion restaurant, Passport, with 350 seats, had a soft opening Saturday with family and friends and opened to the general public Sunday.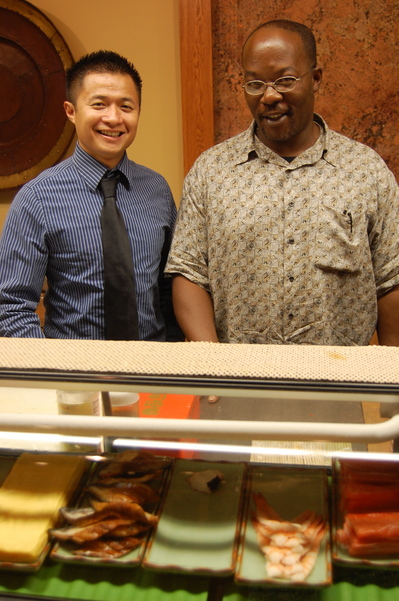 Janet Miller | For AnnArbor.com
Jenny Wu and husband Jin Huang, the owners of two
Lucky Kitchen
Chinese restaurants in Ann Arbor, have opened Passport, their third restaurant,
in the former Chi-Chi's restaurant
on South State Street, ¼ mile south of I-94.
The couple began thinking about opening a restaurant that went beyond a Chinese menu a couple of years ago, Johnson said.
"They didn't want it to be as intensely Chinese. They didn't want to be pigeon-holed."
Johnson and executive chef Anthony Mayo focused on the side of the menu that wasn't Chinese, Johnson said, adding things such as a petit filet and southwestern Portobello and quinoa Napoleon.
The 35 to 40 staff members hired in recent weeks also reflect the globe, Johnson said. "We have people from Cambodia, Korea, the Ukraine and Mexico."
The location is a homecoming of sorts for Wu: Her family came to Ann Arbor in the 1980s and she worked part time at Chi-Chi's to help pay for college.
"It's fate," Johnson said, "that she would return and run the place as her own."
They call the idea of Passport thinking outside the wok: Passport combines dishes from different countries - a healthy portion of Asian dishes along with linguini, quiche and New England scallops. But they also cross borders for single dishes: Asian minestrone soup or pad thai fettuccini, for example.
"We're combining different flavors," Johnson said.
The Ann Arbor Chi-Chi's closed in 2004 when the chain folded. The building was purchased for $1.4 million by Novi-based Cherry Blossom Japanese restaurant in 2005, which added a series of Japanese Tatami rooms that offer private Japanese seating. But Cherry Blossom also closed.
A & Z Investments of Ann Arbor, registered to Androulla and Zakhour Youssef, purchased the building. The 10,300-square-foot building has sat vacant for a couple of years, Johnson said. A number of building repair issues had to be addressed - including some in recent days - before Passport could open, he said.
A number of cosmetic changes have been made, Johnson said, including interior and exterior paint, new flooring and carpet and updated televisions for the lounge.
Johnson joined Passport last month. His last job was working prepared foods at Hiller's Market in Ann Arbor, although he's worked in food service for 27 years, including time at Cobo Hall in Detroit, Johnson said.
"Between the sous-chef, the executive chef and me, we have more than 80 years experience. Everyone's been cooking forever."