Posted on
Fri, Apr 20, 2012 : 5:58 a.m.
Asian fusion restaurant 'Kuroshio' coming to downtown Ann Arbor
By Lizzy Alfs
A local family plans to bring Asian fusion food to downtown Ann Arbor with the opening of a new restaurant Kuroshio on East Liberty Street.
Owners Kenneth and Grace Wang, along with their son Alan, recently signed a lease for the former Champion House space after that restaurant closed abruptly in January.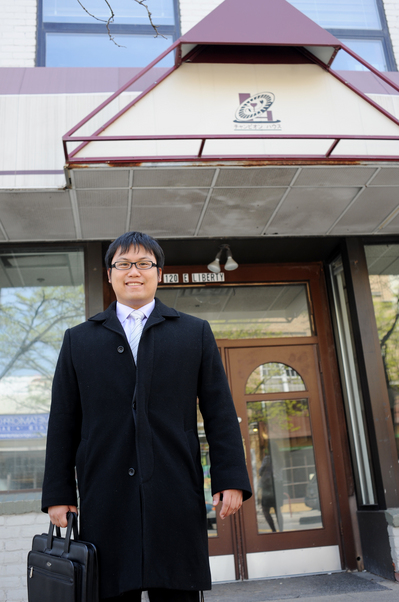 Melanie Maxwell | AnnArbor.com
The 3,800-square-foot space, situated on the corner of East Liberty and South Fourth Avenue in the
Pretzel Bell Building
, is currently undergoing "major renovations," Alan Wang said.
Among the changes: New liquor bar, new sushi bar and a completely redesigned interior.
Ann Arbor-based firms MSK Architects and Rizzolo Brown Studio are working on the project, and the goal is to open by late summer or early fall.
Wang described Kuroshio as a "new Asian experimental" restaurant, mixing different elements of Asian cuisine. The focus, he said, will be on Teppanyaki-style cooking — where food is prepared on a flat grill in front of the customer — and sushi.
"We have a lot of fusion elements going on and we're hoping to incorporate new styles of sushi presentation, new combinations and things like that," he said.
He added: "We're trying to be more experimental on the creative side. For example, our chef is able to use different types of vegetables instead of seaweed as the skin of the sushi."
Another goal for Kuroshio, Wang said, is to create a viable lunch business, where people can come in and get small plates and quick service teppanyaki.
Wang, who has lived in Ann Arbor since he was 2 years old, said his family chose to open their first restaurant in the area because it's "culturally active" and with many quality restaurants.
"My father was in the material handing equipment business, but retired for a little," he said. "He's always been in love with food and loves trying different restaurants. He wanted to emulate his experience and create a truly awesome dining establishment."
Wang said they have yet to nail down an exact menu and price point, but it will be "comparable to Main Street restaurants." He estimated 20 to 30 employees will be hired to work at Kuroshio.
Lizzy Alfs is a business reporter for AnnArbor.com. Reach her at 734-623-2584 or email her at lizzyalfs@annarbor.com. Follow her on Twitter at http://twitter.com/lizzyalfs.