New restaurant planned for ex-Lone Star Steakhouse at Rawsonville and I-94
Posted on Mon, Jun 27, 2011 : 5:58 a.m.
A restaurant and lounge with a new unique concept is clearing its final hurdles to opening at the former Lone Star Steakhouse on Rawsonville Road near I-94.
The venue will show a Native American influence in the decor and menu, the operator said.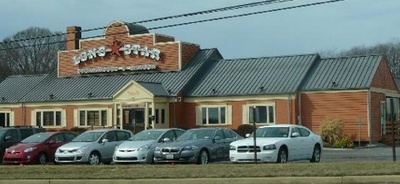 The restaurant will be called Spirits, said owner D'Wayne Turner. The name refers both to the alcohol served in the lounge and an ingredient in many of the dishes, he said.
It's also a reference to Native American culture - the interior will feature a native motif and Turner will incorporate many native American ideas into the recipes. The menu also will focus on Michigan foods, drinks and the cuisine's local heritage.
One of the more interesting components of Spirits concept is the preparation of their steaks, which will be accomplished using a method called sous vid.
Turner explained sous vide is a French term that means "without air". A prime cut of meat is lightly marinated, vacuum packed and placed in a bath of water at 140 degrees for a medium cooked steak. It takes 45 minutes for entire steak to cook, and, once it's ready, the meat is removed from the bath and seared on a char grill. The cooking method allows chefs to be more precise, meaning the steaks won't be over or underdone.
"That's the premier item among our entrees," Turner said. "It's something not a lot of people have heard of and we'll be bringing something new to the game."
Among the appetizers will be rabbit, venison, pheasant and other wild games cooked into bite size pasties. Turner is also preparing a five-onion soup cooked with all locally grown onions and Bell's seasonal beer.
Diners also can also choose from gravlax salmon, or a triple dip with homemade black bean puree, salsa, guacamole and apple chips.
The spirits - or alcohol - makes its way into the food in several forms. Turner said there is the more common practice of using wine in recipes, but, for example, Spirit's pastas will feature a vodka-infused tomato sauce.
All dishes will be prepared fresh and inhouse with local ingredients. Even the burger meat is bought from a regional butcher and served with Detroit's Better Made potato chips.
"We first started talking about local this, local that, and said 'What's really going to bring out the local heritage of the meal?'" Turner said.
"Native Americans here were always grilling and using the basic ingredients - berries, grains, fresh produce, and we just started to say 'Oh man, this sounds good.'I think people in this area are going to like it."
The bar's 15 handles will largely pour Michigan beers such as Founder's, Bell's, Arcadia and more. Michigan options will also be available on the wine list.
The lounge portion of the restaurant will be managed by Turner's partner, Tina Ewanciw, and see a variety of deejays and live music. Turner said he is particularly impressed with the acts playing at Ann Arbor's Weber's Inn, and guests could expect "high energy" music along those lines on weekends. Other ideas under consideration are a blues or jazz night during the week, or possibly a trivia night.
The idea for Spirits came to Turner while bartending at Johnny's Grill in Belleville. He drew up a business plan with guidance from his chef instructor at Washtenaw Community College, where he attends the culinary program. With the plan developed, he began the process of looking for an investor. While discussing his ideas with several customers at the bar, one asked to see the plan. Within weeks, Turner had his investor.
After considering locating in Plymouth, Detroit and South Lyon, Turner chose to sign a lease for Spirits at the former Rawsonville Lone Star because he believes the menu and theme will appeal to the area.
The Ypsilanti Township Board of Trustees just approved a liquor license for the owners of the future Spirits restaurant and lounge. Although the location is technically is outside the township - it's on the Wayne County border - the township had to approve the license.
The restaurant should be open shortly after his liquor license arrives. The rough timeline is three to five months. Upon opening, the restaurant will staff 50 employees, 30 of whom Turner expects will be full-time.
"Things are going really good and according to plan and we're under budget," he said. "We have the place almost cleared of what we don't want and we're making great progress. How fast it opens really just depending on when the liquor license comes."