Posted on
Thu, Jul 14, 2011 : 5:10 a.m.
Packard Health kicks off free summer walking program - Packard Pacers
By AnnArbor.com Staff
Packard Health held an event Saturday, June 4 to kick off the Packard Pacers, a free summer walking and training program for community members of all fitness levels and all ages. Exercises met at County Farm Park in Ann Arbor to stretch and walk and learn health information.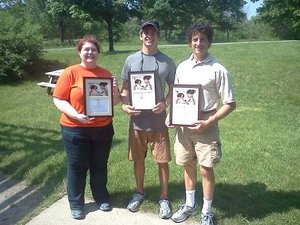 photo courtesy of Packard Health
Local businesses joined Packard Health and the
Kiwani's Club
to promote the health and wellness of the entire community.
St. Joseph Mercy Hospital
, as founding partner of the Packard Care corporate campaign, started things off with a donation of $50,000.
The summer walking and fitness program is intended to provide a supportive environment. The Pacers meet on Saturday mornings from June through Labor Day weekend for stretching exercises and walking with Packard Health providers and staff.
Walkers receive a pedometer to track steps and a walking log to record progress. Demond Johnson, personal trainer and owner of A2 Fitness Professionals, will provide motivation and coaching. New this year: The Packard Pacers Pairs, grandparents and grandkids getting healthy together through exercise and healthy eating.
• Sign up for the weekly Business Review email newsletter here.