Posted on
Thu, Sep 6, 2012 : 5:57 a.m.
Ann Arbor's shifting corner: Is Papa John's closure on East Huron Street making room for a development?
By Lizzy Alfs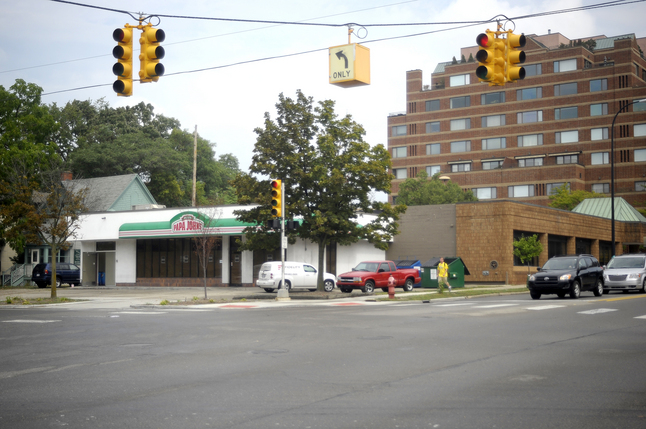 Joseph Tobianski | AnnArbor.com
Editor's note: This story has been updated to clarify details on the negotiations between Greenfield Partners and Zahn family trust.
A major property shift on a prominent corner of downtown Ann Arbor could pave the way for the area's next high-rise development.
After purchasing a vacant building on East Huron Street in June, Connecticut-based real estate firm Greenfield Partners is quietly negotiating a deal to purchase two neighboring properties on the northeast corner of East Huron and North Division streets.
Meanwhile, the Papa John's pizza store on that corner closed last week and plans to relocate, according to signs in the windows.
The Papa John's franchise owner could not be reached for comment regarding the plans, but it appears the store closure is related to the potential property sale.
David Zahn, whose family has owned the Papa John's property and an adjacent house on North Division for decades, confirmed that his family is in negotiations with Greenfield Partners to sell those two properties.
"When someone gives you an offer, then you're willing to take it, I guess," he said.
Zahn declined to comment further about the negotiations.
Greenfield Partners — which is operating under the name Ann Arbor Green Property Owner LLC — purchased the vacant 10,300-square-foot building and parking lot at 413 E. Huron St. in June for $4.5 million. It's situated between Sloan Plaza condominiums and the Papa John's property.
Bruce Thomson, the former longtime owner of the building, told AnnArbor.com in June that the company likely plans to build a high-rise development.
The property is in the D1 zoning district, which allows for mixed residential and commercial development. The maximum building height for the East Huron segment is 150 feet.
"I assume it will end up a high-rise of some kind, but I don't know what they will do," Thomson said. "It's zoned for high-density development, which is what makes sense, so I'm sure it will end up some kind of high-density development."
Representatives from Greenfield did not return multiple requests for comment and no site plans have been submitted to the city of Ann Arbor.
But combining the three neighboring properties would increase the footprint of a potential development and give the company more flexibility in planning.
Ray Detter, chairman of the Downtown Area Citizens Advisory Council, said it could also "spread out" the impact of a development.
Detter, who also lives steps away from the site, said he's concerned about the effect a development could have on Sloan Plaza residents and their view, but he also supports a new use for the downtown corner.
"This is the wrong place to have a drive-in pizza place in terms of the future of downtown," he said. "It doesn't fit in….we're hoping something better can come out of this to better downtown."
He added: "We all want to work for something that works for the developers as well as for the neighborhood, and we're hoping we can make that happen. We're hoping the sale of the Zahn property will make it more possible to do something creative."
Lizzy Alfs is a business reporter for AnnArbor.com. Reach her at 734-623-2584 or email her at lizzyalfs@annarbor.com. Follow her on Twitter at http://twitter.com/lizzyalfs.