Posted on
Thu, Jun 3, 2010 : 5:04 a.m.
Paparazzi: Bank of Ann Arbor earns Business Recycling Leadership Award
By AnnArbor.com Staff
Recycle Ann Arbor, a nonprofit focused on recycling and waste issues, announced May 26 that Bank of Ann Arbor was awarded the Business Recycling Leadership Award. The award recognizes outstanding recycling and sustainability efforts by Ann Arbor businesses.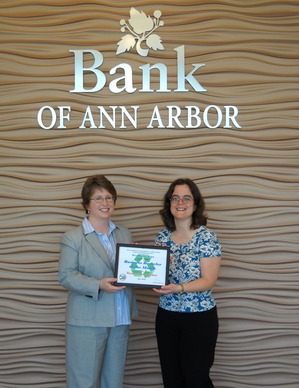 Photo courtesy of Recycle Ann Arbor
In order to earn the award, businesses must:
* Be located in the city of Ann Arbor;

* Be a Recycle Ann Arbor customer;
* Recycle a high percentage of waste, as verified by a waste and recycling audit;

* Have a designated staff person or green team that coordinates recycling;

* Recycle special items, such as printer cartridges or fluorescent light bulbs;

* Offer recycling education to employees; and

*Be involved in at least three sustainable practices, such as green purchasing, zero waste efforts or energy-efficiency programs.
From April 1, 2008, through April 30, 2010, Bank of Ann Arbor recycled 18,936 pounds of paper and cardboard, and 11,502 pounds of mixed containers. In addition to paper, cardboard, cans and bottles, Bank of Ann Arbor also recycles batteries, toner cartridges, fluorescent light bulbs, Styrofoam and shopping bags.

Assistant Vice President Rhonda Foxworth said that Bank of Ann Arbor President Tim Marshall is the driving force behind the organization's recycling program.

"At Bank of Ann Arbor, the recycling culture starts at the top, and is championed throughout the company by 100 employees throughout our six locations," said Foxworth. "When the president actively promotes waste reduction and recycling to minimize the company's impact on the environment, it paves the way for everyone to participate."
Bank of Ann Arbor has an Employee Activity Team, which meets to discuss projects such as improving the office recycling program and providing better sustainable services to customers at all bank branches, including online banking and electronic statements. In addition, and internal website provides articles on sustainability practices and waste reduction in the office environment.
To promote its new electronic statement program for customers, Bank of Ann Arbor recently pledged that for each new customer who signed up for the service, it would donate $10 to local environmental efforts. The proceeds were donated to the Ann Arbor Rotary Club to fund tree replanting in local Ann Arbor parks.
• Email items for People, Achievements and Paparazzi to business@annarbor.com. Sign up for the weekly Business Review email newsletter here.