Posted on
Thu, Mar 10, 2011 : 5:05 a.m.
Paparazzi: LaFontaine Chrysler Dodge Jeep Ram in Saline announces winner of Kiss the Car contest
By AnnArbor.com Staff
On Feb. 26, starting at 10 a.m., 31 contestants placed their lips on two cars in a auto showroom in Saline as part of a "Kiss The Car" contest sponsored by the LaFontaine Automotive Group and 102.9 W4 Country.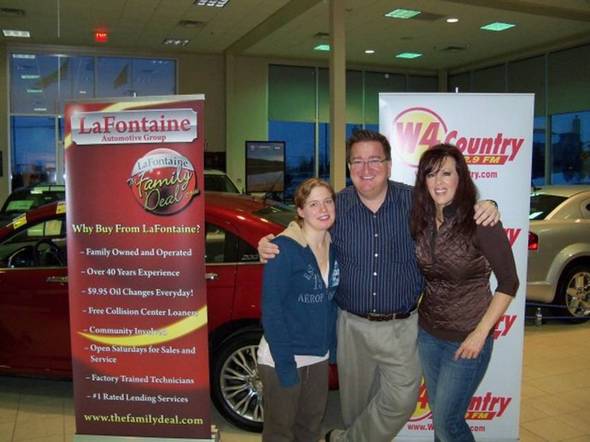 photos courtesy of LaFontaine Chrysler Jeep Dodge Ram in Saline
The last person standing, or in this case kissing, one of two cars in the showroom at
LaFontaine Chrysler Dodge Jeep Ram
would be declared the grand prize winner of a two-year lease on a brand new car.
Brian "Bubba" Cowen, host of Breakfast with Bubba on W4 Country in Ann Arbor and his crew broadcast live from the event for the entire duration of the contest. "
Once the contest began, all contestant had to have both feet placed flat on the ground, with lips firmly planted on the vehicle. Once an hour, every contestant was given a 10 -minute break to use as they see fit.
As the forty-fifth hour ticked by, it became apparent that none of the final four were willing to forfeit the contest. During their last break, the four contestants, Janet Delaney, Dawn Baratta, Jim Spots and James Scollard decided to get together and come up with an exit strategy. After some discussion all four agreed to quit kissing the car at the same time and let their fates be decided by the luck of the draw.
Their plan was communicated to Brian "Bubba" Cowan of 102.9 W4 Country, and Bubba confirmed that this would be an acceptable way to end the contest. Shortly after 6:40 a.m. Monday, all four contestants removed their lips simultaneously from the 2011 Chrysler 200 that they had been kissing for nearly two full days.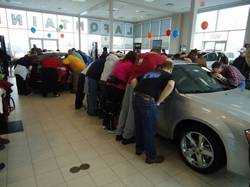 When names were drawn from a hat, the winner of a two-year lease on a new car was Dawn Baratta. The other three finalists received prizes rannging from gift certificates to a gold and diamond necklace to a Caribbean cruise.
See a YouTube video from the Kiss the Car event here: http://www.youtube.com/watch?v=kWID0wOpDAw.
• E-mail items for People, Achievements and Paparazzi to business@annarbor.com. Sign up for the weekly Business Review email newsletter here.