Posted on
Thu, Sep 23, 2010 : 5 a.m.
Paparazzi: Washtenaw Literacy to host World in a Basket Fundraiser Oct. 1
By AnnArbor.com Staff
Ypsilanti nonprofit Washtenaw Literacy will hold its annual "World in a Basket" fundraiser at 5:30 p.m. Oct. 1 in Washtenaw Community College's Morris Lawrence Building. WDIV news anchor Devin Scillian will greet guests at this strolling dinner and auction. An author and literacy advocate, Scillian and his wife Corey are honorary chairs for the volunteer-managed event, which raises 20 percent of the group's operating revenue.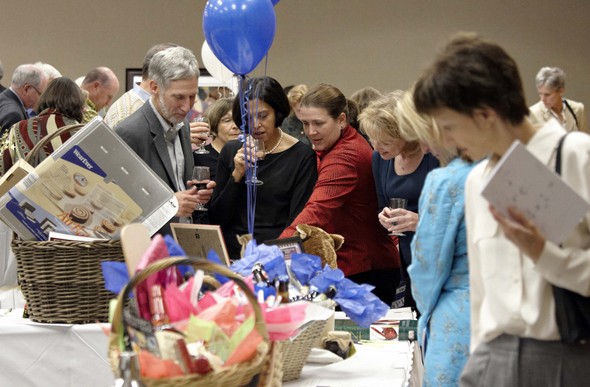 photo courtesy of Washtenaw Literacy
Proceeds from the event will augment a recent year-long capacity building grant awarded to Washtenaw Literacy through Eastern Michigan University Institute for the Study of Children, Families & Communities. EMU won a $1 million grant from United States Department of Health and Human Services to build the capacity of nonprofits that are core contributors to the economic recovery of Michigan. Washtenaw Literacy is one of nine nonprofits selected by EMU as having significant impact on building Michigan's workforce.
Washtenaw Literacy has seen a dramatic escalation in demand for its services in recent years, as jobs have shift from labor- to knowledge-focused, leaving low-literate adults behind. The group's services are free to residents of Washtenaw county and have a solid track record of success: More than 90 percent of the adults in its programs reach at least one of their goals, providing these learners with more options and opportunities to contribute to Michigan's economy.
Guests at "World in a Basket" will support programs that are both successful and cost effective. Washtenaw Literacy delivers a full year of one-on-one tutoring for just $600. The return on the $600? Some reports show that a year in a basic literacy class translates into a 25 percent increase in employment potential for the learner.
Tickets for "World in a Basket" are $85 and include include beer, wine, strolling supper and the opportunity to bid on 130 gift baskets of all kinds. Proceeds go directly to Washtenaw Literacy. For ticket information, call 734-879-1320 or e-mail Washtenaw Literacy at info@washtenawliteracy.org.
• E-mail items for People, Achievements and Paparazzi to business@annarbor.com . Sign up for the weekly Business Review email newsletter here.