Posted on
Thu, Feb 21, 2013 : 2:59 p.m.
Patrick Doyle: How Domino's Pizza used social media to change its reputation
By Lizzy Alfs
Patrick Doyle has a lesson for business leaders: Honesty, transparency, consistency and customer engagement are the keys to running a successful company.
That's the message the chief executive officer of Domino's Pizza delivered at a Washtenaw Economic Club luncheon Thursday afternoon.
Doyle said a critical turning point for the Ann Arbor Township-based company was in 2009 when Domino's told the world its old pizzas were subpar, introduced a completely new recipe, and then asked its customers for feedback via social media.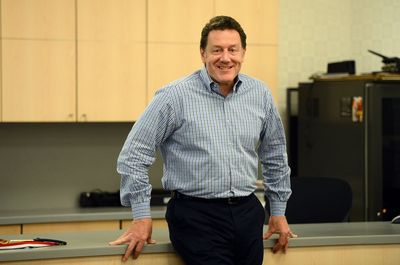 Melanie Maxwell | AnnArbor.com file photo
"To us, social media drives everything," Doyle said. "Consumers own the brand, we don't own the brand."
First, Domino's launched a six-week, multi-million dollar marketing campaign that highlighted real customer feedback — from people saying the crust tasted like cardboard to someone calling it the worst pizza they've ever had.
"Great communication uses tension," Doyle said about the brutally honest advertisements.
"We decided to accept the criticism that we had been hearing previously and play it right back to the them," he continued. "Let me tell you, it broke through to go out and say that. People paid attention."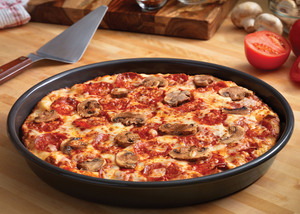 Courtesy photo
Next, Domino's engaged with its customers and asked them to post feedback on Twitter and Facebook. The company also rented an electronic billboard in New York's Times Square that highlighted that feedback, whether it was positive or negative.
In the first week the advertisement aired, Doyle said sales were up double digits. The company went from flat same-store sales and store closures in 2009, to significant sales growth in 2010 and 2011. In 2012, the company opened its 10,000 store.
The company then ran its "Show us your pizza" campaign, where it asked customers to take pictures of their Domino's products at home and post the photos online.
"We got, I think, over 30,000 pictures posted on the Domino's website," Doyle said.
"Our social media part of the business just took off as people were connecting with the brand…the customers' view of your brand is what carries the day," he continued.
At the same time, Domino's grew its technology side of the business and more customers than ever started ordering pizzas on mobile platforms. Today, Doyle said a third of the company's business comes from digital orders.
Although Doyle admits it was risky, he said the transparency and customer engagement factors were key in transforming the company's reputation.
"Fess up, own it, and if something isn't going well, admit that you've got the issue, do something about it, and people will react to it," he said.
"If it didn't work, I might have had the shortest tenure of any CEO in the U.S.," he joked.
Related story: Pizza redesign could have been the end of Domino's
Lizzy Alfs is a business reporter for AnnArbor.com. Reach her at 734-623-2584 or email her at lizzyalfs@annarbor.com. Follow her on Twitter at http://twitter.com/lizzyalfs.