Posted on
Sat, Aug 24, 2013 : 5:57 a.m.
PKSA Karate School moving to new location in Ann Arbor
By Angela Smith
PKSA Karate School is moving from its current location at the Ann Arbor Airport Business Park to a new studio space on Boardwalk Drive.
The move, happening while construction continues near the new Costco entrance on State Street, is something that PKSA owner Lynda Gronlund hopes will bring increased visibility and accessibility.
PKSA has had a presence in Ann Arbor for nearly eight years. The school offers family-friendly martial arts training through both Ann Arbor Rec & Ed, and its franchised location. There are currently 34 schools nationwide, 28 in Michigan.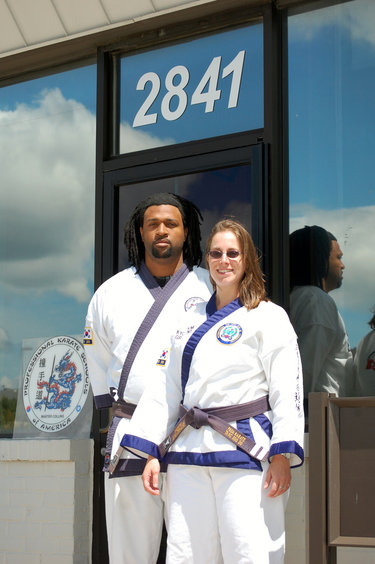 Angela Smith | For AnnArbor.com
The Ann Arbor location serves about 150 students in its 1,400 square foot space.
The new location, at 2841 Boardwalk Dr., will be roughly the same square footage, but will be a more efficient use of space, Gronlund said. "We feel this will be much easier to find. The current place is very tucked away, and this is much easier to get to."
The new school space will offer two separate classroom spaces, an area for personal training through Balance Point Fitness, and an opportunity to run fitness classes during what Gronlund calls prime time for fitness and karate students: weeknights and Saturday mornings.
"For fitness, cardio kickboxing, taught by Jibril, is our big thing" says Gronlund. Jibril Naeem, is a second degree black belt in three martial arts disciplines, and main instructor at the Karate School. He has been studying martial arts since age 3 and has been teaching and coaching for more than 10 years. Naeem also specializes in working with school-aged students. He holds an associate degree in education and is a teaching assistant for emotionally impaired children. Gronlund took over ownership of the Ann Arbor PKSA Karate School one year ago in 2012. She is a certified personal trainer and second degree black belt who has studied multiple styles of martial arts and weaponry.
"We are very excited because it's a great time to move. It's back to school time and a lot of people are interested in starting up a martial arts program," says Gronlund.
She is also enthusiastic about the neighboring businesses on Boardwalk Drive. "The complementary businesses around will help draw clientele and benefit each other." Of One on One Athletic Club, Gronlund says she purchased a membership that morning. "I think that it should be a very complementary relationship. They are a full-service gym, we do training. I plan on going over there and working out after classes, I suspect some of our clients and their parents will as well. Jump City, the Lamaze Center, and the Preschool will also be a good (fit)."
"We look forward to having a big open house and introducing ourselves to businesses in the area," adds Naeem.
PKSA has also looked at expanding its Ann Arbor presence with a satellite school on the northside of town to serve the Kids Power Rec & Ed students. "We may be looking at renting some initial space this fall to be able to run classes a couple days a week in a northside location."
PKSA offers seven classes through Rec & Ed this season, most will be taught at the new Boardwalk location.
Gronlund says that the Rec & Ed classes attribute to the success of the program:
"I think the formula is a good formula. You get in and introduce yourself to the community through the Rec & Ed classes. People see the value in it, they want to continue. In a community like Ann Arbor, we are one among many programs. We offer a reasonable cost, and a very family-oriented system. I don't know of any other karate schools that are so much in support of kids and parents working together toward their black belt. That's very exciting for families and I think that is very unique."
Gronlund is hoping that the move will be at a great time to attract new familes as they begin a back to school schedule. "For families just thinking of starting out, I'd personally like to have them come in and meet our team, see what we are all about."
Classes will continue through August at the current location. PKSA will open its new location on Sept. 3.
Angela Smith is a freelance reporter. Contact the AnnArbor.com business desk at business@annarbor.com.