Posted on
Fri, Feb 15, 2013 : 5:58 a.m.
Planet Fitness opening in former Hollywood Video in Ann Arbor
By Lizzy Alfs
Two years after Hollywood Video shuttered its Ann Arbor area stores as part of a company bankruptcy, a buyer has emerged for one of the vacated buildings.
Planet Fitness franchisees Jim Matthew and Dennis Backos purchased the building at 2350 W. Stadium Blvd. for $2 million, city records show.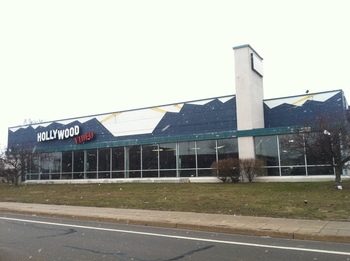 Lizzy Alfs | AnnArbor.com
"We're just excited to come to Ann Arbor and make it work there," Matthew said.
"It's a great market, it's very healthy and a forward-thinking city, in my observation," he continued.
The 26,284-square-foot building, between Planned Parenthood and McDonalds, has been vacant since Hollywood Video closed in summer 2010. It was listed for sale with John Fricke of Signature Associates and has an assessed value of $1,392,200.
Fricke said a variety of users expressed interest in the building, and at one point, it was under contract to a retailer who planned to construct a new building on the site.
"I think there is a lot of activity in (the gym) segment right now between Planet Fitness, Fitness USA and LA Fitness. I'm not surprised that's who ended up buying the building," Fricke said.
Matthew and Backos, who both have a long history in the fitness business, currently own four Planet Fitness gyms in Michigan. Matthew said they've been searching for space in the Ann Arbor market for nearly two years.
Renovations were under way at the building Thursday morning, and Matthew said it will be completely transformed into a basic fitness center with cardiovascular and strength training equipment, a locker room with showers, tanning beds and HydroMassage beds. Matthew estimated they'd spend more than $1.2 million on equipment and $1 million on the renovations.
"It's a big investment," he said. "We're really committed and confident it's going to be well received in the Ann Arbor market."
Based in New Hampshire, Planet Fitness is a franchise chain of fitness centers with more than 600 locations. The company's website says the gyms are a "Judgment Free Zone" where members can "relax, get in shape, and have fun without being subjected to the hard-core, look-at-me attitude that exists in too many gyms."
There are 30 Planet Fitness centers in Michigan, including one in the Washtenaw Fountain Plaza at 2748 Washtenaw Ave. Matthew and Backos don't own that location.
Memberships cost $10 per month or $19.99 per month for the "Black Card" which includes unlimited tanning, use of HydroMassage beds and other perks. Free fitness training is included with the memberships.
"We offer very affordable fitness," Matthew said. "Beyond the affordability…it's an environment that is non-intimidating."
On the first Monday of every month, Matthew said they give out free pizza to their members. The second Tuesday of every month free bagels and coffee are offered.
Matthew hopes to open Planet Fitness in late April and plans to hire 12 to 15 employees to staff the gym. The center will be open for 24 hours from Monday at 5 a.m. through Friday at 9 p.m., and it's open 7 a.m. until 7 p.m. on Saturday and Sunday.
Lizzy Alfs is a business reporter for AnnArbor.com. Reach her at 734-623-2584 or email her at lizzyalfs@annarbor.com. Follow her on Twitter at http://twitter.com/lizzyalfs.