Posted on
Fri, Aug 16, 2013 : 5:59 a.m.
Plans detailed for 2 restaurants proposed for Briarwood Mall parking lot
By Lizzy Alfs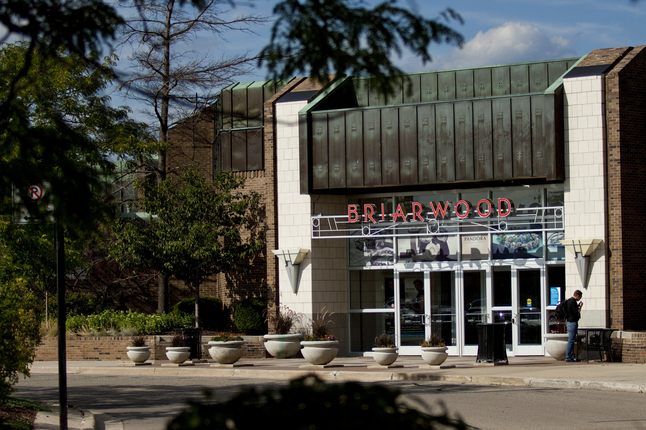 AnnArbor.com file photo
Briarwood Mall
officials detailed plans and solicited public feedback Thursday evening for a
proposal
to construct two restaurant buildings on the mall's parking lot.
The restaurants — which have not yet been announced to the public — would be constructed on the parking lot just east of the Macy's department store.
"Until leases are signed, we are not at liberty to disclose that information," Curt Tappendorf, Simon Property Group's senior civil engineer, told attendees of the citizen participation meeting on Thursday evening.
Simon Property Group
Simon Property Group owns Briarwood Mall, which is located at the corner of Interstate 94 and South State Street. Macy's anchors the mall on its north end.
About a dozen people attended the 30-minute public meeting, asking only a few questions about the project. A citizen participation meeting is required before Simon Property Group can move forward with its plans. The company intends to submit a site plan to the city of Ann Arbor this month.
Plans call to construct two side-by-side restaurant buildings, which would each total roughly 6,500 square feet. The restaurants would be separated from Macy's by about 10 feet, said Hubbell, Roth & Clark's Gary Tressel, a consulting engineer for the project.
The project requires that Simon Property Group purchase some land east of the department store from Macy's. It would be rezoned from P (parking) to C2B (business district).
"On the east side of Macy's there was (permissible building area)," Tappendorf said. "Macy's came to us and said, 'We are not interested in expanding Macy's.' That gave us the opportunity to backfill that area with another use."
Added Tressel: "Restaurant and retail go together."
One meeting attendee asked if the public has an opportunity to offer feedback or suggestions on the restaurant tenants that are chosen. A mall representative said those negotiations are being done privately.
Another attendee asked whether there would be an impact to the traffic flow once the restaurants open.
"Basically, (the traffic study) shows these two restaurants will have no impact on the general surrounding roads," Tressel responded.
In addition to the restaurant construction, parking in that area would be reconfigured to face the restaurant buildings. Landscape islands and LED lighting would be installed, along with new pedestrian walkways. Macy's also plans to reorganize some of its parking and pedestrian walkways.
If the project is approved, Simon Property Group hopes to begin preliminary site work in the fall. The restaurants have a tentative opening date of November 2014.
Tressel and Tappendorf said the project is complicated because issues with utilities will need to be worked out. Various power lines run underneath that portion of the parking lot to electrical and gas rooms outside Macy's.
"This is one of the main electrical and gas rooms; it serves the entire mall," Tappendorf said. "There is also the sanitary line that comes out (in that area). So, as part of this project, because the restaurants are proposed on top of those, we're required to relocate those."
Added Tressel: "Some of these utility relocations we are going to do yet this year, in order to accelerate the schedule for next spring."
Tressel said construction would temporarily disrupt parking in the area, and there could be temporary traffic control systems. He doesn't expect Briarwood Circle — the road surrounding the mall — would close.
He said there would be designated parking outside the restaurants for carryout orders, along with handicapped-accessible parking spaces close to the restaurant entrances.
Briarwood Mall is the city of Ann Arbor's biggest taxpayer. The mall has a 2013 assessed value of about $38.3 million.
The restaurant proposal comes as the 40-year-old mall undergoes a series of renovations, including energy efficiency upgrades and new entrances with automatic entry doors. The last time the mall was renovated was a decade ago. (Read more about the renovation.)
Lizzy Alfs is a business reporter for AnnArbor.com. Reach her at 734-623-2584 or email her at lizzyalfs@annarbor.com. Follow her on Twitter at http://twitter.com/lizzyalfs.