PNC Bank 'tickled' to become official sponsor of U-M Athletics
Posted on Fri, Aug 24, 2012 : 5:58 a.m.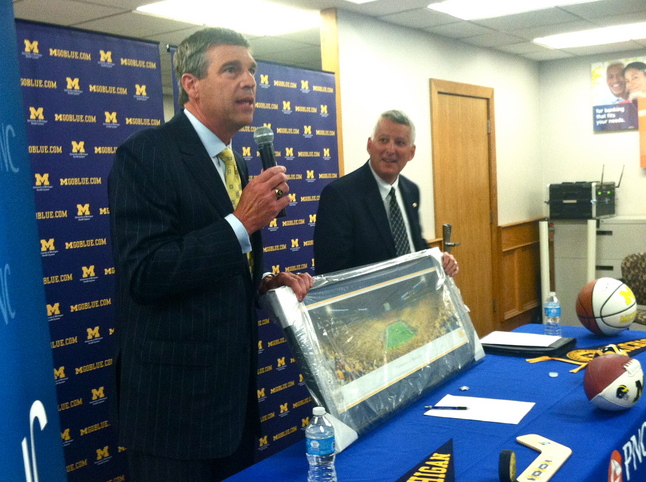 Lizzy Alfs | AnnArbor.com

Pittsburgh-based PNC Bank is taking its local advertising to a whole new level as the official sponsor of the University of Michigan's athletic department.

The three-year agreement, announced Monday, begins immediately and runs through June 30, 2015.

"I think a lot of us in this room would agree that (the University of Michigan) is the finest university in the United States and tradition here is like no other," said PNC Bank Regional President Ric DeVore at a reception Thursday evening.

"We're really tickled to be associated with a great institution like the University of Michigan," he continued.

The financial details of the partnership were not disclosed.

PNC Bank — which has about a dozen Ann Arbor-area locations — has been a presenting sponsor of UM's spring football game for three years.

The new partnership means the bank will become the presenting sponsor of the "Inside Michigan Football" TV show on Fox Sports Detroit, according to a news release. It will advertise during the "Inside Michigan Basketball" show and during radio broadcasts of football and men's basketball.

The bank also has the rights to use Michigan's "block M" in advertising and promotional materials at Crisler Center and Yost Ice Arena.

PNC will install three ATMs at Michigan Stadium, two at Crisler Center and one at Yost Ice Arena.

"There's a lot of elements that come with this besides football…we're proud to be associated with all sports," DeVore said, adding that education is a "cornerstone" of PNC's philanthropic efforts.

Michigan athletic director Dave Brandon called PNC a "great partner" for the department.

"We have a lot of great things going on," he said. "We're working hard to build our brand and the idea that we can co-brand with PNC Bank is special."

PNC Financial Services Group Inc. posted a net income of $546 million for the second quarter of 2012. The company was valued at about $32.73 billion based on a Thursday stock price of $61.83.