Posted on
Mon, Mar 7, 2011 : 5:23 p.m.
Easy does it: Zingerman's moves Annex building as part of Ann Arbor deli's expansion
By Paula Gardner
Plans for the Zingerman's Deli expansion in Ann Arbor moved forward Monday when the Annex building also moved — about 12 feet to the east.
The distinctive orange Annex building now temporarily rests on nearby "cribbing," a temporary foundation, after it was lifted off its original foundation Friday and then moved Monday afternoon over about four hours.
"The biggest reason to move the Annex now is so we can start the demolition on the patio," said Pete Sickman-Garner, spokesman for the Zingerman's family of businesses.
That demolition is part of the site preparation work for a multimillion dollar expansion of the iconic deli, located at 422 Detroit St. on the edge of Kerrytown.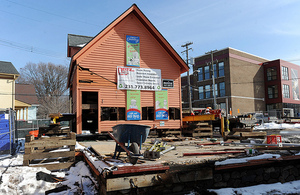 The Zingerman's Annex building rests off its foundation as workers move the structure to a new location Monday afternoon.
Melanie Maxwell | AnnArbor.com
Work so far has included demolishing a fire-damaged house on East Kingsley Street, in addition to the Annex move. Eventually, a 10,340-square-foot building will be added to the reconfigured campus. And as part of that plan, the Annex will be relocated to a position near its original foundation.
But in the meantime, the land where the Annex stood will be regraded to reduce the slope and make a planned courtyard area more accessible.
Working on that courtyard before the major construction starts is an important step in the process, Sickman-Garner said.
"Getting the courtyard to where we need it to be will help us this coming year even with all of the disruption of the construction," he said.
Chris Love of Phoenix Contractors of Ypsilanti Township is the project manager for the construction effort. He described the Annex moving as seamless, thanks to the expertise of Deitz House Movers of Muskegon.
The job started March 1, when workers lifted the house onto jacks, took siding off and shored up the interior for the move, Love said.
A crew of two prepped the house, and brought on one more person for the move, Love said.
The effort attracted some attention, Love added: "People walking by were asking, 'Why are you saving it?'"
Next steps for the project also include building an underground retention system beneath the new courtyard, Love said.
"This will be the most visible change that you'll see there for a while," he said.
At the same time, deli operations continue — including use of the nearby Kerrytown building that formerly housed eve the restaurant.
Paula Gardner is Business News Director of AnnArbor.com. Contact her at 734-623-2586 or by e-mail. Sign up for the weekly Business Review newsletter, distributed every Thursday, here.