Posted on
Mon, Dec 17, 2012 : 2:50 p.m.
Independent bookstore among those eyeing Snyder's former Ann Arbor campaign office
By Ben Freed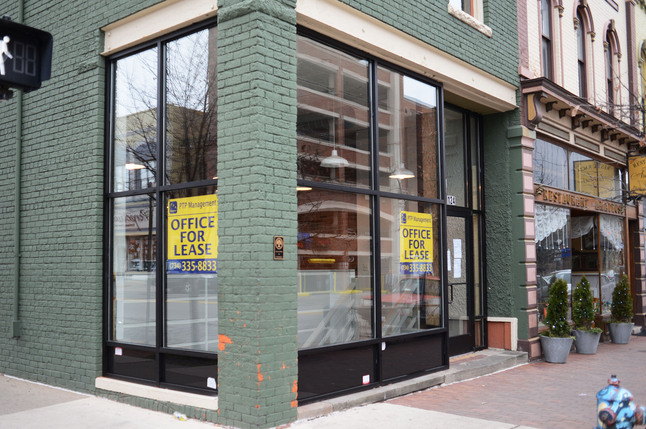 Melanie Maxwell | AnnArbor.com
Governor
Rick Snyder
's former Ann Arbor campaign headquarters at 124 E. Washington Street is a prime storefront in downtown Ann Arbor with multiple interested prospective tenants.
The property is owned by 124 East Washington, LLC and managed by PTP Management, a local broker specializing in student housing and downtown Ann Arbor commercial real estate.
Faramarz Farahanchi, who manages both entities, said the property is one of the last open pieces of real estate in downtown Ann Arbor and that he has not yet closed on a lease for the space.
"We're in no rush to finalize this, it's a great space," he said. "We are evaluating all of the candidates."
Farahanchi said that there are three solid applicants leading the way for the space, one of which is for an independent bookstore that has been looking at potential locations downtown since July.
The possible future Literati Bookstore is one of the contenders.
"We are in lease negotiations for the space right now," co-owner Hilary Lowe said Monday.
"... We wanted something downtown because there are a bunch of great niche stores, but nothing has really replaced Borders as a general bookstore. We wanted to be in that walkable area, and it's been a challenge to find the right space at the right price."
Lowe and her co-owner and fiance, Michael Gustafson, have raised money from friends and family for the endeavor, as well as secured a loan from Ann Arbor State Bank.
"There are so many steps in the process to opening," Lowe said.
"But we're pretty confident at this point that it will happen. We had to secure the funding, and then finding the location is the most difficult part of all."
The location is still not a given, as Farahanchi is undecided on which applicant will secure a lease for the space.
"We are flexible about what kind of tenant we could have here," he said.
"It depends on what the use will be and expectations, as well as what the business plan calls for… In the end, we want to make sure that the people who rent here will be successful. The tenant's success is the landlord's success."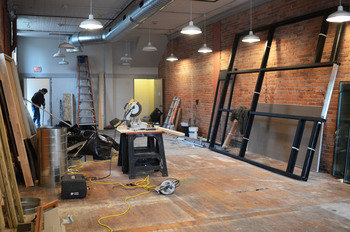 Melanie Maxwell | AnnArbor.com
Farahanchi said that a local real estate broker is not representing the bookstore, but that
Colliers International
has clients looking at the space.
Brendan Cavendar
of Colliers confirmed that he had two clients looking at the building but declined to specify how they would use the space.
Farahanchi was overseeing minor renovations Monday, including adding a door on the Fourth Avenue side of the property. He said the building is up to code as a historic downtown building and that it could be used for a number of purposes, including retail, office space, or a restaurant.
The property has about 2,600 square feet of rentable space split between a main floor at street level and a basement with approximately equal space.
In the past four years, Ann Arbor has lost the downtown Borders flagship store, Michigan Book and Supply, and the Shaman Drum bookstore.
There are still a number of independent book retailers in Ann Arbor, including the Crazy Wisdom Book Store and Tea Room, the used book shop Dawn Treader, Aunt Agatha's, which sells new and used mysteries; West Side Book Shop, selling use and rare books, and Nicola's Books in the Westgate Shopping Center.
Lowe and Gustofson started a blog in July, and commented in October that they were "closing on a lease soon. They wrote that they bott grew up in Michigan and "decided to move 1,000 miles, from Brooklyn to Ann Arbor, to start a bookstore to bring books back to downtown Ann Arbor."
Ben Freed covers business for AnnArbor.com. You can sign up here to receive Business Review updates every week. Reach out to Ben at 734-623-2528 or email him at benfreed@annarbor.com. Follow him on twitter @BFreedinA2