Posted on
Thu, Nov 18, 2010 : 5:42 p.m.
Public employee compensation cuts are necessary, Rick Snyder tells Republican governors
By Nathan Bomey
Public employee compensation needs to be aligned with the private sector, Michigan Gov.-elect Rick Snyder said today on a panel at the Republican Governors Association meeting in San Diego.
Snyder, an Ann Arbor venture capitalist who takes office Jan. 1, said slashing public employee compensation is "one of the toughest things I need to do as the next governor," according to a report in the Washington Post.
"You're talking about people and their livelihoods and their families. So it's a very serious topic. I want to do it working with them," Snyder said. "But you have to ask two questions from a fiduciary point of view. What's comparable with the private sector and what's financially affordable? And my view is I don't believe you can check either one of those boxes today. And if you can't check either of those boxes we need to sit down and have a dialogue."
Snyder was speaking on a panel called "The GOP's Midwest Resurgence" alongside newly elected John Kasich of Ohio, Scott Walker of Wisconsin and Tom Corbett of Pennsylvania.
Thirty-four governors were expected to attend the event, which will features possible 2012 presidential candidates such as Mississippi Gov. and RGA Chairman Haley Barbour, Indiana Gov. Mitch Daniels, ex-House Speaker Newt Gingrich, and Minnesota Gov. Tim Pawlenty.
The comments about public employee compensation repeat sentiment Snyder expressed during the campaign.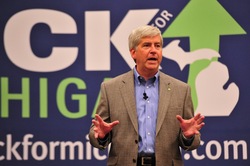 Ryan Stanton | AnnArbor.com
In an interview with AnnArbor.com's editorial board in October, he said cuts were needed but that he "wouldn't take away anything that's already been earned by anyone." He also dismissed the idea that previous cuts were sufficient and said that the system needs structural fixes so that public employees get some consistency.
"All the proposals that have gone before are all flawed in some fundamental fashion," Snyder told AnnArbor.com. "Let's get a solution that's going to work for 10 or 20 years. It'll ask for shared sacrifice, but the question is, can we do a solution then that these people don't need to be looking over their shoulder each and every year?
He added: "When you lay the facts out, we've spent significantly beyond our means in terms of government at all levels."
Contact AnnArbor.com's Nathan Bomey at (734) 623-2587 or nathanbomey@annarbor.com. You can also follow him on Twitter or subscribe to AnnArbor.com's newsletters.