Posted on
Fri, Apr 20, 2012 : 5:58 a.m.
Pure Barre Ann Arbor expands to new larger location
By Angela Smith
A new client's first class at Pure Barre can be pretty strenuous, and for Carrie Bristol, it was no exception.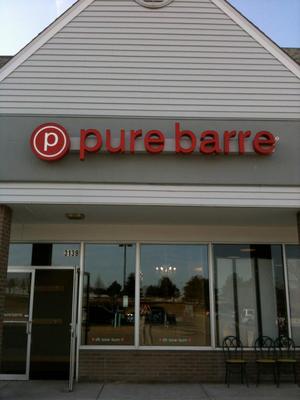 Courtesy of Pure Barre
"When I took my first class, I was shocked at the way my body shook uncontrollably. I was instantly hooked ... addicted to the constant challenge and loving the changes in my strength and endurance."
The class uses techniques rooted in ballet and small isometric movements to create a high-intensity workout that is gaining popularity as it grows across the nation, and in Ann Arbor.
Pure Barre was founded in Michigan. In 2001 Carrie Rezabek Dorr, a dancer and attorney opened the first studio in Birmingham. She moved to California to open locations in San Diego, Orange County, and Los Angeles. There are now more than 70 franchised locations in 26 states.
"I knew that I had to teach it and share it with others," Bristol said she thought after her first class. She opened Pure Barre Ann Arbor in August 2008, on the north side of Ann Arbor at 220 Felch St. The studio celebrates its move to a larger location, at 3139 Oak Valley Drive in Pittsfield Township, today with an open house.
"Although we were sad to move, we are thrilled to be in our new space, gaining more visibility and hopefully reaching out to even more prospective Pure Barre devotees."
The new location is in the Oak Valley Shopping Center, south of Interstate 94 on Ann Arbor Saline Road. Arbor Fit Club, a gym and fitness facility, also is located in Oak Valley, but in the adjacent property north of Target. The two studios do not seem to overlap in market, according to Tom Goldberg, owner of the center.
He said that Pure Barre is a great addition to the area, and that Bristol is a great representative in the community for what she does.
The new location offers a more traditional site for an expanding business. The 2,000-square-foot area offers space to include an additional retail area, where Pure Barre can sell more athletic wear, accessories and equipment.
Photo courtesy Pure Barre Ann Arbor Facebook
Bristol has a grand opening event planned for Friday, April 20. From 7 to 9 p.m., the community is invited to "celebrate our new space, our amazing staff and our dedicated clientele who have made all of this possible." Pure Barre will offer 10 percent off all of packages and retail, raffle items such as one year of Pure Barre and offer drinks and hors d'oeuvres.