Pure Visibility co-founder Catherine Juon leaves company to consult startups
Posted on Wed, Jul 4, 2012 : 4:32 p.m.
Pure Visibility, an Internet marketing company in Ann Arbor, announced this week that co-founder Catherine Juon had left the company to start a new venture dedicated to consulting work with second stage start-up companies.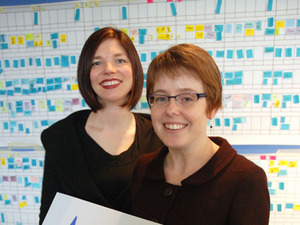 File photo | AnnArbor.com
Dunrie Greiling
, formerly the general manager of the company, was promoted to chief operating officer to replace Juon.
"Pure Visibility has experienced a tremendous evolution over the last 18 months. It's exciting to promote Dunrie to a leadership role where she can continue to accelerate the company forward," Linda Girard, co-founder and president of Pure Visibility, said in a statement.
Girard said in an interview that the company had experienced 25% year-over-year growth in the past year and has grown to include 19 employees.
"We just hired our most recent employee a couple days ago," Girard said.
Juon, who helped found Pure Visibility in 2005, will be consulting through her new venture Beyond Startups. She hopes to help companies in the second stage of growth connect with resources in the region.
"My experience founding and growing Pure Visibility and previous ventures has given me great insight into tools and resources available to second-stage entrepreneurs," she said in the statement. "It's the right time to leave, with Pure Visibility on a solid trajectory for growth."
Girard said Juon is motivated by her passion for helping both the companies and the economy of southeast Michigan grow and develop.
With the promotion of Greiling, Pure Visibility's leadership team remains all-female. Girard said that not only is it not by design, but that she's seeing an increasing female presence in the search optimization and online marketing field.
"We had an event for the local chapter of SEMPO (Search Engine Marketing Professional Organization) at the Michigan Theater, and I found a lot more women there," she said.
"So I definitely think the number in the field is growing. For us, it's just about putting the best people in the best positions to succeed."