Posted on
Mon, Dec 10, 2012 : 10 a.m.
Ann Arbor mom launches online business, Ollie and Stella Children's Outfitters
By Angela Smith
Lin Buyher spends a lot of time outside. Sometimes it's hiking or camping, surrounded by nature. Sometimes its attending sporting events and running errands in the city.
Either way, her family of seven likes to spend time outdoors together, and having kids that are dressed to enjoy the weather is essential to making that time enjoyable.
When Lin found a line of outdoor clothes for her fifth child, Asher, she said she immediately loved them beyond belief.
"He wears them in the typical fashion for rain gear/wind gear/snow gear but we've also found them great for things like keeping a kid dry when playing in the frog fountain sand box at Gallup Park during a break from errands!"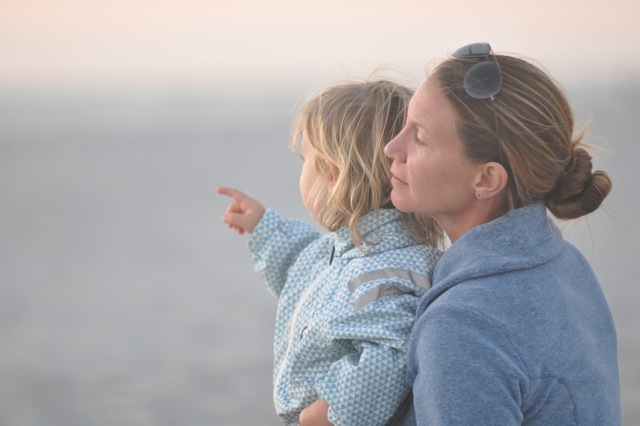 Other parents noticed, too. Buyher was getting many a comment and questions from other local parents. She found herself talking about the clothing line, called DucKsday, to many parents. She'd tell them about how flexible the gear is — two pieces doing the job of three, layering to keep dry and warm without bulk, so they actually can move when they are dressed for the snow.
But the gear, a Belgian brand created by a mom in 2009, was not readily available in the U.S., and Buyher decided to do something about that.
In August, Buyher launched her own US online retailer for the DucKsdays line, called Ollie and Stella Children's Outfitters. Since then she has spent the rainy fall and winter season letting the product market itself. The following is a question and answer session with Lin about the startup and the future plans for the business.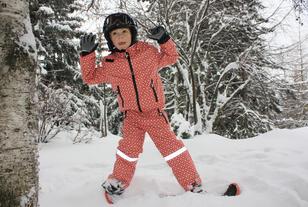 photo from the ollie and stella website
Who are Ollie and Stella? Where did the name of the business come from?
Stella was my great-grandmother, and Ollie was her next older sister. They were the two youngest in their family, and picture of the two of them as children always sat on our piano. They wore matching high-necked dresses, and I often thought about how much fun they would have had with better playclothes. The blog on our website is called "Adventures of Ollie and Stella" — which I'd love to expand in the future to a full-fledged blog with ideas for spending family time in the outdoors. In our house, even the everyday is an adventure.
I may be confused, because that is the business name, but DucKsdays, that is the brand of clothing being sold, am I correct?
Yes. Our business is Ollie and Stella Children's Outfitters. We feature DucKsday gear, which was designed in 2009 by a mom in Belgium. We carry their outerwear because we have loved it for our kids. Having gear that makes it easier to hike/camp/travel/watch a soccer game in the rain/take a break at the park between errands/etc., makes it more fun to do these things. In addition to the flexible fall/winter/spring DucKsday outerwear we currently carry, this summer we will be carrying the new swim line of protective DucKsday surfsuits, rashguards, and beach ponchos — all with SPF protection. We plan to expand our website in the future to include products in addition to DucKsday gear — but all will be products that have worked for our family — especially products like DucKsday that provide unique solutions to issues families face.
How did you find DucKsdays? Were you overseas?
I was lucky enough to see an online sale that the designer of DucKsday held in the US last year — and was so excited that I bought my youngest son rainsuits and fleeces in a few sizes. As a baby he wore the pieces layered for his snowsuit last year — and what I immediately noticed was how able he was to move. Unlike the snowsuits I'd had for my kids in the past (where my babies hardly could sit up or put their arms down), my little guy was crawling all around in the snow. As spring came we continued to get use out of his suit — particularly watching his older siblings' lacrosse and soccer games in the chilly rain. He was the warmest one of us all; the one-piece rainsuit actually kept him dry, even in active puddle-jumping on the sidelines. Loving his suit so much, we wrote the designer to let her know that it was perfect for families in Ann Arbor — and the idea for Ollie and Stella Outfitters was born.
How do you manage a full house and a new business? How does it compare to your prior work as an architect?
We do have a thankfully full house and all of us have activities that we love — so the answer is teamwork. We all work to support each other in our work, school, and extras. I also am very connected to my iCal. Our added goal is that we spend as much time as possible — because of evening activities (my husband is a volunteer coach of two different youth/ high school teams) we often serve a very early dinner so we can eat together — or have a big snack and then plan to eat together when we all get home. We also make the things we do a family affair — cooking together, traveling together to each other's games, for instance. Many of our best family memories have come out of the everyday.
Do you plan to open a brick and mortar store in Ann Arbor at some point?
That would be a fun challenge!
Angela Smith is a freelance reporter.