Posted on
Sat, Jun 11, 2011 : 5:59 a.m.
The Smokehouse restaurant on Washtenaw Avenue rebrands, no longer singing the blues
By Janet Miller
It wasn't unusual for customers to walk into The Smokehouse Blues Bar and Grill looking for live music and a blues house feel. But what they found was a family-friendly restaurant with a menu that leaned toward barbecue.
"People expected blues music and were confused when we didn't have it," said owner Demos Panos.
To align the name with the restaurant, The Smokehouse Blues Bar and Grill at 4855 Washtenaw Ave. west of Golfside Road has become The Smokehouse Grill and Pub.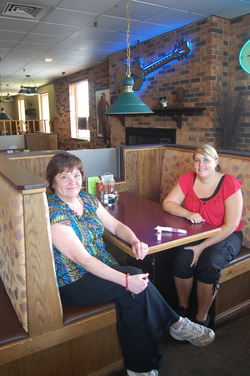 Janet Miller | For AnnArbor.com
Along with the name change came a modest remodel: A lighter and brighter wall color, the dark green booth upholstery giving way to a light tan. Wood panel dividers between booths have also been taken down.
"The Smokehouse Blues look was old and dated. The restaurant looked like it was out of the '80s," said manager Vickie Westbay. The restaurant opened about 15 years ago, in space formerly occupied by a Herc's Roast Beef restaurant.
She is hoping the changes will eventually inspire a 20 percent uptick in traffic. The restaurant seats close to 200 and employs about 25 people.
The rambling menu was also whittled down, though barbecue is still the focus.
"We wanted the menu to say 'this is what we are,'" Westbay said. "We streamlined it. Instead of 15 sandwiches, for example, we have 10 sandwiches."
With the changes came the decision not to sell the restaurant, Panos said. After the family opened Nick's Original House of Pancakes on Lohr Circle in late 2009, Panos said he put Smokehouse Blues on the market because his family was being spread too thin: His wife, Helen, runs Village Kitchen in the Maple Village Shopping Center and his son Nick was opening the pancake house.
But things have settled and the Smokehouse is performing well, Panos said. He owns the property and the Smokehouse business.
The re-branding was a response to what today's diners are looking for, Westbay said.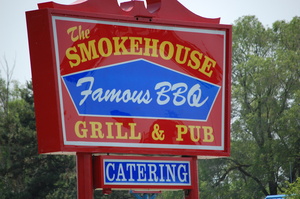 Janet Miller | For AnnArbor.com
"People don't want to sit in a dark place anymore. They want it to be open and fresh," she said. Michigan's smoking ban has helped drive this, she added.
The project also included lightening up the bar. The solid black walls and blues singer wall art was replaced with light paint and sports decor.
"We made it more sports-oriented and we wanted to open it up," Westbay said. "It was dark and private. People talk more to each other now."
And the piped-in blues music is gone, she said: "It's more easy-listening music."
Janet Miller is a freelance reporter for AnnArbor.com.