Posted on
Sun, Jul 7, 2013 : 5:58 a.m.
People's Food Co-op upgrades: New leader keeps millennials in mind
By Janet Miller
While the People's Food Co-op was the first Ann Arbor storefront committed to locally grown organic food, the past few decades have seen a marketplace flooded with Goliaths like Whole Foods, stalwarts like Arbor Farms and upstarts like Plum Market.
Despite the competition, the co-op — founded in 1971 and today housed inside a small, historic building on the edge of Kerrytown — remains strong and ready to grow, said its new general manager, Lesley Perkins.
"We're no longer the only game in town," said Perkins. "But our business model, where members buy shares and elect the board, is our strength. If we didn't have this, we'd be just another little health food store out of business."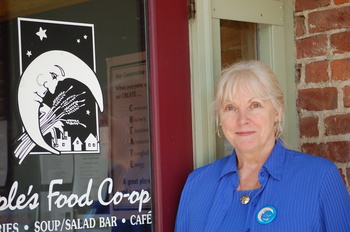 Janet Miller | For AnnArbor.com
After two years without a permanent general manager, Perkins joined the co-op in the spring, promising change, such as reconfiguring the coffee bar operation for a better work flow and building the catering-end of the operation.
Perkins' only experience with food cooperatives was as a customer since the 1990s. But as president of Kerrytown Market & Shops for a decade, she knew how to run a business and understood the area. She also had experience in the food industry. Along with her husband, Perkins bought and ran the 17-room Betsy Bay Inn and a 100-seat restaurant in Frankfort, which they sold last year.
The interview process for general manager was long, and a bit intimidating, Perkins said. After sitting down with a search committee made up of three employees and three co-op board members, Perkins was asked to meet with more employees and board members in a town hall-style session.
"While there were just 14 people, it felt like hundreds," she said. "It was a little scary."
Six months after she applied, she landed the job.
Perkins' first order of business was to paint her windowless, gray basement office a cheery gold. Next came small physical changes to the cafe half of the building, which houses the coffee operation and hot bar. A wall was removed, opening up the narrow building and creating a sight line from the front door to the back wall, along with new paint.
Bigger changes are on the way: A new hot bar/salad bar will be ordered, which will double the space for hot dishes. The kitchen will begin producing more variety and there will be more grab-and-go items.
"There is a huge trend with grab-and-go," she said. "Cafe Verde needs to be modernized and needs a good cleaning up, but we don't want to close down the operation in the process.
Ann Arbor's People's Food Co-op
Gross sales year-over-year
2007: $3,401,000
2008: $4,441,190
2009: $4,685,000
2010: $5,890,043
2011: $6,200,598
2012: $6,541,189
Gross sales at People's Food Co-op, which has 7,500 members, totaled about $6.5 million in 2012, compared to about $6.2 million in 2011, annual reports show. While a dividend wasn't paid to members in 2011 or 2012, they can expect one late this summer, Perkins said.
Now, she said it's time for the co-op to grow. The baking department will add another shift and move into selling wholesale. The bakery just received a standing order from a University of Michigan department. They also hope to update the catering possibilities for the store.
It's impossible for the retail side of the co-op to physically expand. The co-op is landlocked, shelves are packed and aisles are tight, Perkins said.
"The co-op's only real issue is a space issue," she said.
"We are looking for ways to expand, but it's measured in inches," she continued.
Still, it's important to be able to respond to trends, Perkins said. "People who started the 1960s and '70s wave of food co-ops were baby boomers. But there's a whole new wave of younger people who expect different things, they expect it to be more like Whole Foods and we have to evolve."
She said the co-op would consider the possibility of opening a new store, but only if the decision was supported by the members.
It's important, she said, to appeal to the millennials as the next generation of co-op members, while still satisfying the baby boomers who founded the co-op.