Posted on
Sun, Jan 27, 2013 : 5:58 a.m.
Reclaimed urban wood behind the success of Ypsilanti custom carpentry business
By Tom Perkins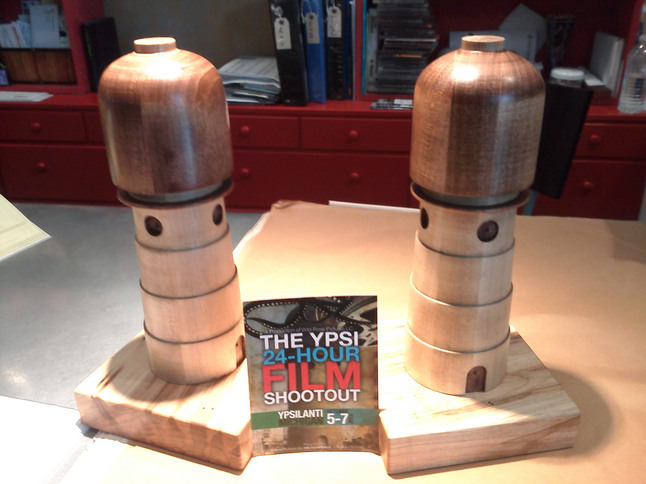 Photo courtesy of JDG
Last year, the city of Ypsilanti came to tear down the tree of Jake Grimes' neighbor at the corner of Sherman and Oakwood Streets near Eastern Michigan University.
The tree had died seven years prior, was rotting at the top, had been dropping limbs, was infested with beetles and was growing uglier instead of up.
Grimes' neighbor was sad to see the tree go because her family had enjoyed it as her kids grew up there. She asked city workers if they could cut several slices off the stump, and that's when Grimes suggested a different way to keep the tree in her life.
Grimes, owner of the Ypsilanti carpentry business JDG Creations, told the neighbor he could turn the tree into a dining room table and sideboard.
The holes the beetles chewed through the tree and the mineral deposits at the bottom made the wood perfect material for creating unique furniture with personality.
Photo Courtesy of JDG
"You had a diseased, ugly tree that needed to go but there was someone sad to see it go, so we took it and turned into something that's beautiful," Grimes said. "I love the fact that we made a dining room table and sideboard for a person out of the tree that was just 25 feet away from where it now sits."
The furniture is one of several custom projects Grimes and his partner, Evan Lampe, have undertaken as they move their business from more of a standard remodeling firm to doing custom projects made out of reclaimed urban timber.
Grimes says he is becoming skilled enough to where he can build just about anything, and working with urban timber to create custom pieces is a more exciting avenue than traditional carpentry.
"I like doing the fun, quirky stuff," he said. "I'll always stay in the building industry, but I'm doing more and more wood turning and different things. It's one of the dying arts; there are not a lot of skilled carpenters left in the world."
For example, Grimes recently created the awards for the Ypsi Film Fest, which are handmade pieces in the likeness of the locally iconic water tower. JDG also recently made wedding goblets and built a custom kitchen out of local cherry tree wood, among other projects.
Grimes' work even caught the attention of the Wahington Post, which mentioned him in an article on urban timber in the Ann Arbor area.
The direction of work also has put Grimes in new partnerships with local designers like Larry Macaig of Fulcrum Design/Build, as well as with a variety of blacksmiths, pottery makers, steel fabricators and other artisans.
"This collaboration with many talented people is what makes our projects so unique," he said.
Grimes also works with Tree Frog Tree Service, a company that pulls down diseased wood. Grimes takes some of the more interesting pieces Tree Frog finds for his projects.
He explained that commercial timber producers look for spotless wood and typically avoid urban wood because it's usually damaged in some way, whether through disease or perhaps a nail stuck in a trunk.
But it's the character from that damage that makes the wood appealing to Grimes and fits his projects.
"People who appreciate the natural character of wood really like it," Grimes said. "They appreciate the process of furniture making and it ties into the pride of taking something from nothing and turning into something."
Tom Perkins is a freelance reporter for AnnArbor.com.