Red Shoes Home Goods reopens its doors with handmade, artistic focus
Posted on Wed, Apr 25, 2012 : 5:57 a.m.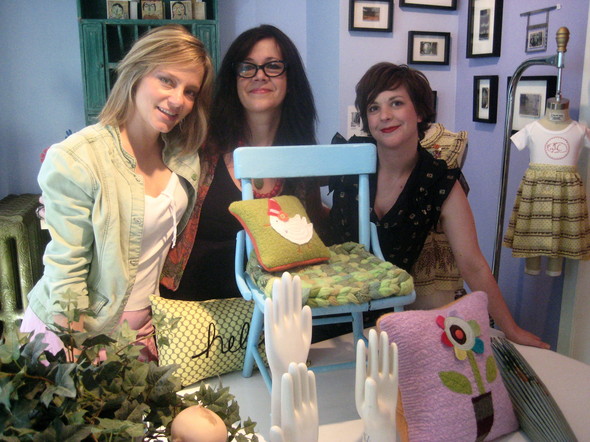 Laura Blodgett | For AnnArbor.com
Red Shoes Home Goods shop in downtown Ann Arbor is reopening Thursday with a new business model: a storefront that will showcase the wares of three artists housed in the space along with workshops and shows.
Catherine Thursby, who has owned the business for more than seven years, decided to change the format to get back to her roots.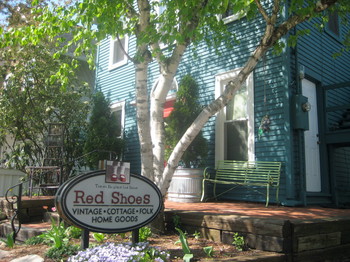 Laura Blodgett | For AnnArbor.com
"I originally started out just doing my art and my vintage, and then started branching out into retail products," said Thursby, who has worked as an artist in Ann Arbor for more than 25 years.
"The majority of stuff we were selling — paper products, toys, picture frames —other retailers were also carrying, plus it was made in China. This kind of took over and I just got burnt out on it. I decided to get back to my roots, which is the artwork."
A mixed media artist, Thursby uses recycled materials to make custom pillows, paintings, jewelry and hand painted furniture.
In January, she held a sale to sell off all her retail stock and closed her doors to revamp the store and produce items to refill the space.
In the meantime, two other local artists moved their studios there. Samantha Misiak, who previously owned Lady of the Lamp in Saline, designs custom lamps and lampshades out of vintage materials. Mary Buchanan, owner of The Baby Bits Company, is an apparel designer and couture seamstress who makes baby clothes out of repurposed materials such as cashmere sweaters.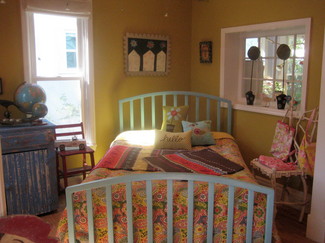 Laura Blodgett | For AnnArbor.com
Located at
332 S. Ashley
on the first floor of a former house, the 800-square-foot space houses the showroom, classroom space and individual working studios for each of the artists.
In addition to the artists' own wares, the retail space features handmade and one-of-a-kind items produced by local and national artists, such as Austrian blankets by David Fussenegger.
"I'm selective. I have a certain style and aesthetic that I want items to fall into," said Thursby, who describes her style as modern vintage with a focus on recycled, handmade products. "No more mass produced, made in China goods at all."
The new format was well-received at a preview party held last month.
"I think (the store) is a very Ann Arbor kind of thing," said Thursby. "We're such an arty town. I'm a townie. I was born and raised here and I feel my art is really kind of reflective of this town. We have our own unique Ann Arbor style."
Thursby attended art school at Eastern Michigan University with a focus on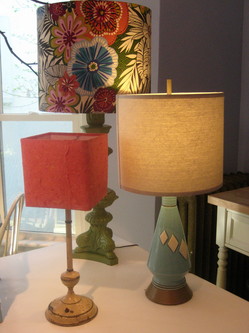 Laura Blodgett | For AnnArbor.com
metalsmithing. She sold her work — mainly jewelry, clay and fabric dolls — in galleries across the country. After a break to raise her children, she started doing home shows with Pat Jacunas, a Burns Park art teacher.
"I got a name for myself and a client base and it grew from there," said Thursby, who says she is very attached to this community. "I love the (Ann Arbor Art Center). I have close relationships with Vicki at Heavenly Metal, Peaceable Kingdom and others who all want the same thing—unique, artful, recycled Ann Arbor product. We support each other."
Thursby blogs regularly on art and family, including what she is doing with her shop and what she is busy creating. Her blog can be found on her website redshoeshomegoods.com, along with an online store and a class schedule. Classes will include painting on canvas, mosaic and jewelry.
The store will open with limited hours of Thursday, Friday and Saturday from 11 a.m. to 5:30 pm. The phone number remains the same at 734-913-5554.