Posted on
Sun, Dec 18, 2011 : 5:59 a.m.
Regulatory maze allows state-licensed limousines to impersonate taxis in Ann Arbor
By Lizzy Alfs
Jeff Sainlar | AnnArbor.com
Sitting outside downtown Ann Arbor's
Scorekeepers
on a Thursday night, several taxicabs idle on Maynard Street waiting for customers to exit the bar in search of a convenient ride home.
Observers say demand for cab rides is high for a number of reasons. "Ann Arbor has a lot of students who don't have cars," said John Lane, an Ann Arbor taxicab driver. "There's also a lot of bars. Then, you've got the business people, kids late for class and airport trips."
But taxi drivers and city officials say that a regulatory loophole is allowing drivers technically licensed by the state as limousines to impersonate taxis, escape city regulations and take business away from licensed taxi drivers. Ann Arbor has 203 licensed taxi drivers and 112 licensed vehicles, said police officer William Clock, who handles taxi licensing for the city.
What most cab riders don't know is that the light on top of a car or a bright yellow color doesn't necessarily mean it's licensed as a taxicab. In fact, a lot Ann Arbor's cabs are classified as limousines. They're not the kind of limousine rented by a bride and groom to serve as an escort to the wedding reception. These are cars licensed as limousines that look and act much like taxicabs.
While the city of Ann Arbor regulates taxicabs, the state of Michigan regulates limousines. The state's Limousine Transportation Act, passed in 1990, states that any car "with a seating capacity of 15 passengers or less" can be classified as a limousine if it receives a limo license from the Michigan Department of Transportation.
"Limos can be anything from a little tiny car to a stretched out Hummer," said Lane. "A Prius can be a limousine."
Limousine vs. taxicab licensing
To get a limo license from the state, a driver must annually submit an application with an equipment vehicle roster, certificate of insurance and proof of a commercial driver's license. Drivers must have an annual vehicle safety inspection and have their driving record monitored by their company. A small sticker is then placed in the window of the car to prove it's licensed.
Taxi drivers are subjected to more restrictions. In addition to the state regulations applied to limousines, taxi drivers must submit their criminal histories and driving records directly to the city.
State law says licensed limos only need to comply with a city's "vehicle for hire ordinance(s)" if the city has a population of 750,000 or more. Since the population in Detroit has shrunk to less than 715,000, no Michigan cities have more than 750,000 residents.
This statute allows limos to operate similarly to taxicabs but with fewer restrictions and regulations.
Limos operating like taxicabs
Earlier this year, Ann Arbor's Yellow Cab changed its name to Yellow Car and switched the majority of its cars to state-licensed limousines instead of city-licensed taxicabs.
Dave Ried, president of Select Ride - the company that owns Yellow Car - said the flexibility in pricing for limos is better for both customers and drivers.
Licensed taxis in Ann Arbor charge a flat $3 fee and an additional $2.50 per mile or 40 cents per minute for waiting time. But limo drivers are free to determine their own rates.
"We have multiple types of pricing now and we've got a tiered pricing that goes down with longer trips," Ried said. "As a limo, we are compliant with the law when we charge a flat rate. We can also alter prices based on the cost of fuel, so drivers can afford to feed their families."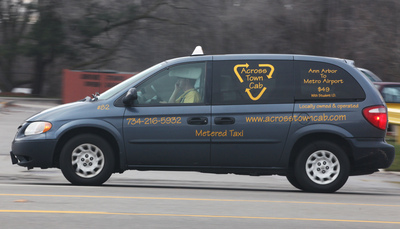 Jeff Sainlar | AnnArbor.com
In addition, limos can travel in between cities and work in the entire state of Michigan, whereas a taxicab can only pick people up in the city of Ann Arbor.
Because of these laws, many licensed limo drivers have been coming into Ann Arbor on busy bar nights and football game days and charging higher than normal rates, Lane, an Ann Arbor taxi driver, said.
"Limos can just rip people off and it reflects on us," he said. "People will get into my cab and ask how much it will cost and I explain that I can't tell them because taxis use a meter. Then, they get angry and won't use us."
Select Ride's Ried said customers appreciate knowing the cost of a ride up front.
Lane also said limos are parking at Ann Arbor's prearranged taxi stands - specific parking areas for taxis in downtown hotspots - and soliciting passengers, which is against a city ordinance.
According to the ordinance, "No person shall operate a motor vehicle and solicit or accept passengers who have not previously arranged to be transported in the motor vehicle," unless it's licensed as a taxicab. Taxi stands are also only designated for licensed taxicab vehicles to park, said Clock, the Ann Arbor police officer.
But Clock pointed out that while "previously arranged" passengers are required for limos, it's a vague requirement, making it difficult to enforce.
"We're trying to prevent these cars with a limo tag that are picking people up and driving downtown looking for passengers," he said.
'Gypsy cabs' and unmarked cars
It's not uncommon to see cars in Ann Arbor with no marking and a light on top of the vehicle. These unmarked cars are actually licensed as limousines.
Unlike the city's taxis, the state only requires vehicles to mark the car with company lettering or a registered logo if it weighs more than 5,000 pounds, according to the Limousine Transportation Act.
The problem with unmarked cars, Lane explained, is that anybody is capable of buying a "for hire" light at the store and acting like a taxi driver.
"People don't look at the kind of taxi they're getting into," he said. "Any criminal on the street can pick people up and do whatever he wants."
Clock said that although he hasn't had many complaints of driver misbehavior, it's "obviously a concern."
"I'm a big fan of trying to educate people about what car they're getting into," he said. "Do your education on what's out there."
In addition, Clock said it's easier for licensed limos to operate illegally by not annually renewing their insurance to avoid fees.
"I think it'd be a lot easier for a company to violate the limo law than taxicab ordinance," he said. "The state has a lot of responsibilities and it'd be difficult to enforce."
"I'm the only person who handles taxicabs full time in Ann Arbor," he continued, "and officers are so busy, it's difficult to get them to enforce these laws unless there's a major issue." The Michigan Department of Transportation has a list of licensed limo carriers on its website, and spokeswoman Janet Foran said she encourages consumers to always check the list.
"There may be a few limos that are operating illegally," she said, "but for the most part, the companies we work with are knowledgeable. But a lot of it is up to the consumer to make sure they do their homework. Remember that the lowest price is not necessarily the best price."
She said passengers can ask limo drivers for a current copy of their driving records, and they should always check for an MDOT limo decal in the window.
Easier enforcement and a call for increased cab use
As the Ann Arbor Downtown Development Authority continues to try to increase modes of transportation in the city, DDA executive director Susan Pollay said she'd like to see a day where taxis can be easily hailed in Ann Arbor.
"In our view, the more modes of transportation that people have available to them, the better," she said. "Taxicabs are used throughout the world as a great way to get through downtown without the need of your own vehicle."
As the possibility of increasing taxi operators and taxi use looms in the future, the Ann Arbor City Council recognized some of the issues with the varying laws for limos and taxicabs and recently adjusted the city's ordinance.
Among the changes: Limos in the city cannot advertise as a taxicab, which includes putting the words "taxicab," "cab" or "taxi" on the vehicle and using "for hire" lights on the roof of the car. Also, the ordinance bans vehicles that aren't licensed taxis from taking passengers without a prearranged fare.
But the changes, Clock said, have yet to be enforced.
He said that to help enforce limo and taxicab laws, it'd be ideal if only taxicabs could operate in Ann Arbor or if the city had the power to regulate limos.
"This is our community and the taxis are regulated by us," he said. "We keep a good product and make sure vehicles are inspected and drivers are responsible. I'd also like to see the limo act be a little more descriptive. I'd like more guidance."
Lizzy Alfs is a business reporter for AnnArbor.com. Reach her at 734-623-2584 or email her at lizzyalfs@annarbor.com. Follow her on Twitter at http://twitter.com/lizzyalfs.