Posted on
Mon, Dec 31, 2012 : 4 p.m.
Remembering Ann Arbor: Whiffletree and Maude's T-shirts available next year
By Lizzy Alfs
Related story: Top 5: Restaurants that I wish were still open in Ann Arbor
Ann Arborites can only reminisce about Whiffletree's French onion soup and ribs from Maude's, but now a Florida-based clothing company is keeping those memories alive.
Long Lost Vintage Wear, a Key West company that offers "nostalgic triggers" in the form of T-shirts is expanding its Ann Arbor offerings.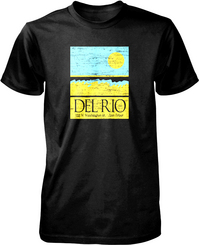 Long Lost Vintage Wear
Whiffletree and Maude's shirts will be available in February, said Long Lost Vintage Wear owner Markham McGill.
"The Ann Arbor line has done almost as well as where we're based in Key West," McGill said. "People are very, very passionate about it…Ann Arbor has a unique flavor."
Established in 2009, Long Lost Vintage Wear offers vintage t-shirts with a design of iconic businesses from several U.S. cities. Every shirt is hand printed in McGill's Key West shop.
Weeks of research go into each shirt design, as McGill and his business partners try to memorialize bygone locales. One of his partners is longtime local resident Tim Redmond. "In every market, we have somebody like Tim," McGill said. "We try to get connected to each of these towns. You cannot do this, what we do, on Google. You have to go to these towns and you have to get to know the people."
The other Ann Arbor shirts offered include Bimbo's, Mr. Flood's Party, The Blind Pig, Drake's Sandwich Shop, Pretzel Bell, Del Rio and Bicycle Jim's. McGill said he plans to stop printing Bicycle Jim's next year as Whiffletree and Maude's are added to the lineup. The company also will offer a blue and yellow Drake's shirt, and eventually a Del Rio hat.
"I like bringing old things back to life," McGill said.
Response to the Ann Arbor shirts, McGill said, has been overwhelmingly positive. He said he gets weekly phone calls and emails from people connected to Ann Arbor via the University of Michigan or longtime locals.
"That's what's so exciting about it," he said. "It's the 'that place, back then, with those people was the best time of my life' kind of feeling. It strikes an emotional chord with people. It's not just a T-shirt, it's a memory."
The biggest Ann Arbor sellers, he said, are Drake's and Del Rio shirts, with Pretzel Bell following close behind.
Long Lost Vintage Wear T-shirts are available at Ann Arbor's Bivouac and on the company's website.
Lizzy Alfs is a business reporter for AnnArbor.com. Reach her at 734-623-2584 or email her at lizzyalfs@annarbor.com. Follow her on Twitter at http://twitter.com/lizzyalfs.