Posted on
Thu, Sep 30, 2010 : 5:58 a.m.
Danmar Products still growing by selling medical devices designed by co-founder John Marchello
By Janet Miller
John Marchello is many things to many people: successful Ann Arbor businessman, inventor, industrial designer, artist and, most recently, sexual health crusader.
The co-founder of Danmar Products designed early hockey and wrestling headgear, guided his Ann Arbor company into designing and producing protective and support equipment for the physically and mentally challenged and now has become a one-man crusade to promote sexual health for men recovering from prostate surgery.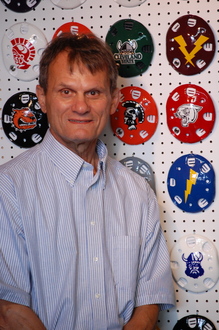 photo by Janet Miller
Marchello, 74, was honored early this month with an (almost) surprise party on the grounds of Danmar Products, located west of the city off of Jackson Road, marking the 50th anniversary of his first personal patent, a revolutionary design of wrestling headgear.
While Marchello sold Danmar in 1988 to Karen Lindner, CEO and majority owner, and Dan Russo, president and part owner, he still comes to work every day and remains the creative force behind this 43-year-old company.

Even today, Marchello won't let himself be hemmed in: He has a developed a new design for wrestling headgear that allows for a team logo (until now, the logos pealed off, creating a hazard). It's been field and market tested and is expected to be released for general sale soon, Marchello said.
At Danmar, Marchello has also launched Second Pressings, a way to turn scrap foam into new products, and he designed and produced a device to help men recovering from prostate surgery.
On the side, he has created a line of art and jewelry made from recycled silver spoons and forks.
Marchello founded Danmar in 1967 after designing motorcycle, police and athletic headgear for a Detroit company. He had graduated from the University of Michigan (where he played football for one year and wrestled for three) with a degree in art a few years before.
"While John was an art graduate, he was always engineering minded," Lindner said. "He became an industrial designer." He founded Danmar with partner Harland Danner, who eventually sold his share of the business.
Just as athletic headgear sales began to soften - Canadian manufacturers took over hockey headgear ,and the rest was headed offshore - a new door opened. The state of Michigan began to de-institutionalize mentally and physically challenged residents, sending them out into communities and creating a need for support equipment such as helmets, head and neck supports and wheelchair pads.

"Demand grew exponentially. We couldn't stop it," Marchello said, "I just went along for the ride."
Providers were coming to Danmar to buy hockey helmets for the special needs population. The company responded by turning its research and development attention to this new area. While hockey helmets offered some protection, they needed to be fine tuned for a range of ages and sizes, Lindner said.
"Hockey helmets were designed for 14- to 24-year-old males. They didn't fit a child, and the design wasn't flexible. What we make is for 1 percent of the population, but that 1 percent reflects 99 percent of the variable of body and head shapes."
Today, Danmar makes protective helmets (many of them custom fitted), cranial reshaping orthoses, swimming aids that get wheelchairs users out of their chairs and into the water, positioning equipment and more. It has about 100 products.
"It's a very focused market area," Lindner said.
More than 90 percent of sales are in the special needs market and the rest in athletic headgear, Marchello said. Danmar, with 29 employees, produces everything it makes in the Ann Arbor facility. The two buildings total 15,000 square feet.
When he sold the company, Marchello was also able to let go of the worries that come from being the owner.
"It became a low-stress job. There were no worries about payroll. The only thing I worry about it producing new ideas and that's easy for me. And a lot of fun," Marchello said.
Some of his latest efforts for Danmar:
Second Pressings
Marchello is behind the company's new Second Pressings line, where foam scraps left over from production are ground and made into new products such as pallows (a combination pillow/pad used for knee and leg support to allow handicapped people to kayak), foam alphabet sets and long pillow rests. The company is developing adaptive padding that will allow its special needs clients to bike, Lindner said.
Sexual Health
Like Dr. Ruth Westheimer before him, Marchello isn't shy talking about sexual health. A patient of prostate surgery 11 years ago, Marchello developed The Prelude, a non-invasive product that offers post-operative physical therapy. He also developed a foam sleeve that makes products now on the market more comfortable, he said. "I've been known to take a lemon, make lemonade and turn it into a new product," Marchello said.
He's furnished a small, comfortable office at Danmar headquarters where couples come to learn about what Danmar has to offer directly from Marchello. The products are distributed by hospitals and are sold by medical supply companies and directly from Danmar. He calls this latest effort "a new frontier."
And back to the beginning
Marchello started out as an artist and returned to it with Marchello Art, a venture with one of his sons where they make jewelry, vases and sculpture out of vintage silverware. They started selling their art at craft shows and have graduated to stores such as Found Gallery in Kerrytown and online at http://www.etsy.com/shop/MarchelloArt. While he creates intricate art, there's also an industrial design component: Marchello developed the tooling that allows for bending and shaping the art.
Janet Miller is a freelance writer and a frequent contributor to AnnArbor.com.