Posted on
Mon, Oct 4, 2010 : 6:02 a.m.
Renner's baguettes rise again: New oven puts Ann Arbor bread maker back in business
By Janet Miller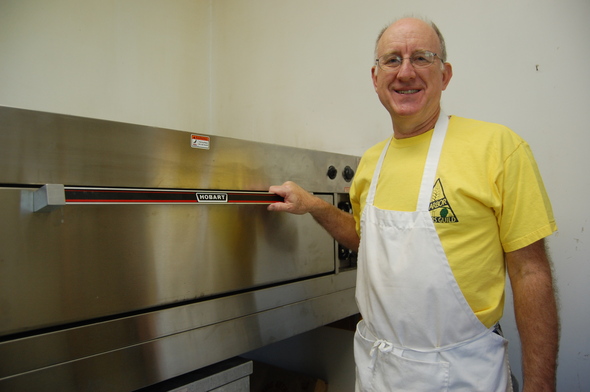 Janet Miller | For AnnArbor.com
For fans of
Jeff Renner
's French baguettes, the end of summer was a time of loss.
Renner's 45-year-old oven had baked its last baguette and it took Renner a month to find a replacement.
"People told me they were forced to eat other bread, and they didn't like it," said Renner, who runs the operation out of a commercial kitchen inside his Scio Township home.
But Renner was back to baking what he calls "The Best French Bread in Town" last week, making his first deliveries since mid-August.
While he's still getting to know his new Hobart pizza oven, he's back to full production of 80 loaves a day, albeit a little rusty (he forgot to slice the tops of the first batch).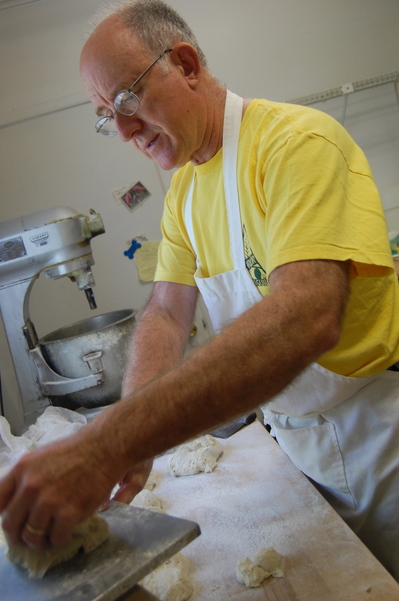 Janet Miller | For AnnArbor.com
Renner has a cult following who claim that his crispy crusted and flavorful baguette rivals that of a better-known bakehouse with a national reputation across town.
But Renner is not trying to out-zing anyone. He makes only French baguettes, limits it to 80 loaves a day, four days a week and keeps it a one-man operation.
He's even looking to retire in a few years, but hopes to hand the operation over to someone else.
"Customers have told me I can't retire, that they'll chain me to the oven," Renner said.
He resisted buying a new oven that can cost $8,000 because the time he plans to continue baking bread for commercial purposes didn't justify the expense. It wouldn't have paid for itself anytime soon.
Instead, Renner used the Internet to scout for a used oven. He had bought his first oven used - it was 17 years old and had been used at a Little Caesar's restaurant - and it had served him well.
He looked around Michigan and Chicago until the brother-in-law of his brother-in-law tipped him off to a Lansing restaurant supplier who had a 12-year-old oven that was still in the box.
While it cost $3,000, twice what he had planned, it was much less than a new oven, Renner said. He figures it will add another 10 cents to the cost of each loaf, but he doesn't plan to pass that along to his customers. His bread retails for $2.99 a loaf.
It's a small-scale, home-based bread making operation that began after Renner baked bread for bake sales at his children's nursery school. He was a stay-at-home dad, and other parents asked if they could special order the bread. He began selling in eight-loaf batches.
He eventually began selling it at a limited number of retail outlets, rarely going over the 80-loaf a day limit that keeps it manageable, Renner said. He also sells to area caterers. It's been a business since 1982.
It's Renner's own recipe, borrowing heavily from Julia Child and the recipe that came with the baking pans he bought at Kitchen Port years ago. The ingredients are simple: flour, water, yeast, salt and a tiny pinch of ascorbic acid (Vitamin C), a dough enhancer.
So what makes Renner's bread so different - and so good? Time and limiting the amount of yeast, he said. He makes the dough the night before and lets it rise 18 hours. He uses less yeast than even other artisanal breads.
"It gives all the other natural microorganisms in the flour a chance to make their contribution," Renner said. And he doesn't over knead it so the gluten doesn't break down.
Renner is also a master beer maker, again combining yeast and grains. "The both come from a common interest," Renner said. "They both are about making things by combining creativity and science."
Renner's bread is sold retail at two locations: Arbor Farms (delivery is at 3:30 and 5 p.m. Tuesday-Friday) and Village Corner (delivery is at 5:30 p.m. Wednesday and Friday). He also delivers eight-loaf orders around Ann Arbor (the baguettes freeze well).