Posted on
Sun, Mar 21, 2010 : 6 a.m.
Two-year renovation of former Ypsilanti Visteon factory under way
By James Briggs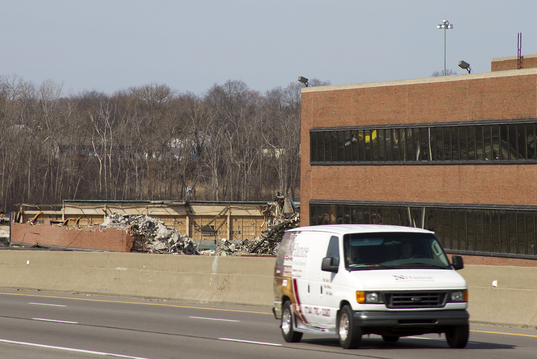 Steve Pepple | AnnArbor.com
Cleaning and demolition is under way at the former Visteon factory in Ypsilanti, but the facility remains more than a year away from being ready for use.
"There's some work going on at the site - that's the current status. Everything is what I expected. Everything is going well," said Nagesh Palakurthi, president and CEO of Taylor-based Angstrom USA, a precision tubing manufacturer.

Angstrom purchased the 1 million-square-foot building in December from Automotive Components Holding Co., which acquired the land from Visteon in 2005 after ACH was established by Visteon and Ford as a holding company for Visteon's less profitable operations.
The purchase price, according to city records, was $2 million.
Although Palakurthi originally said the building - located south of downtown between Spring Street and I-94 - could be used "pretty quickly" he cautioned the scope of the renovations could take up to two years to complete.
"It's in the first quarter of the project. There's nobody working there, no production going on," Palakurthi said. "We have a total project plan of 18-24 months, and we're into the first three months of that."
It's also too soon to tell how many of Angstrom's 400 jobs could come to Ypsilanti, Palakurthi said. "It's very hard to predict how things are going to work out," he said.
The facility became available in 2005 when Visteon announced it would cease operations after five years at that location.
Part of the purchase agreement with Angstrom called for ACH to demolish about 250,000 square feet of the property, work that has been visible to drivers on I-94 over recent weeks.
Palakurthi has pledged to transform the building into a modern production facility that will create tubing for Ford, Toyota and Chrysler. But there is much cleaning to do before those renovations can begin, he said.
"We're rehabbing and cleaning up the site to bring new developments into it," he said.
Angstrom will renovate the existing space rather than adding onto the building.
"We are gonna reuse old portions of the site," Palakurthi said. "There are no expansion plans for the site, but a lot of expansion planned for the usability of the site."