Posted on
Fri, Jul 5, 2013 : 5:56 a.m.
Mimi's Bridal Boutique in Ann Arbor gets a new look after 12 years in business
By Angela Smith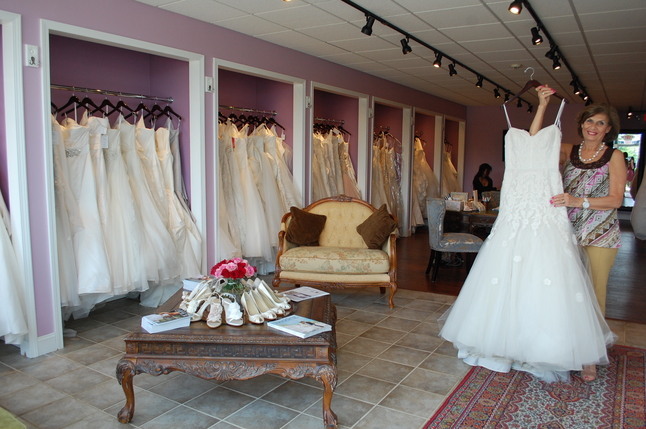 Angela Smith | For AnnArbor.com
"Say Yes to the Dress," "I Found the Gown," "Something Borrowed, Something New," "Girl Meets Gown" — it's no wonder that today's brides put so much focus on their dress, as there are so many TV shows that focus on finding the perfect gown for a bride's special day.
TheKnot.com recommends only 8 percent to 10 percent of a wedding budget to be spent on attire. But with an average budget of $25,656, that small percentage can mean high spending for the special attire.
Ann Arbor's bridal shops are responding to the demands. The Gown Shop in downtown Ann Arbor expanded this spring, and Mimi's Bridal Boutique just completed a spring renovation to attract more selective bridal shoppers.
The boutique, at 3666 Washtenaw Ave. in Ann Arbor, might be missed by passers-by. It's located in a small strip that is set back from other retail shops on the south side of Washtenaw.
The 2,500-square-foot boutique occupies two levels, the second floor for bridesmaid and social dresses, the first floor devoted to brides. The recent renovations include hardwood floors, track lighting and an updated the bathroom.
The shop has also taken on a splashy lavender hue that the bridal specialists say is flattering for many brides.
Angela Smith | For AnnArbor.com
"With the changing times and trends, it was clear to us we needed a fresher, clean look that reflects Mimi's Bridal and who we stand for. We cater to the modern bride who wants a romantic and timeless look that exudes sophistication and elegance," said marketing director Jennifer Yacu.
Mimi's Bridal is owned by designer Yvette Mikho. Before immigrating to the United States in 1990, Mikho was an established jewelry designer in Baghdad, Iraq. Once she settled in Ann Arbor, Mikho moved from jewelry design to fashion design when she opened a tailoring shop.
After gaining experience in bridal gown tailoring, Mikho opened her own bridal boutique in 2001. Mikho currently resides in Dubai, but her staff of bridal specialists take appointments and walk-ins. The shop specializes in couture wedding gowns that range in budget from $1,000 to $6,000.
Mimi's Bridal Boutique is open from 11 a.m. to 7 p.m. Monday-Thursday, 10 a.m. to 7 p.m. Friday and 10 a.m. to 5 p.m. Saturday.
Angela Smith is a freelance reporter. Contact the AnnArbor.com business desk at business@annarbor.com.