Posted on
Thu, Aug 23, 2012 : 5:59 a.m.
Restaurants continue to hire as food service industry grows at record rate in Washtenaw County
By Ben Freed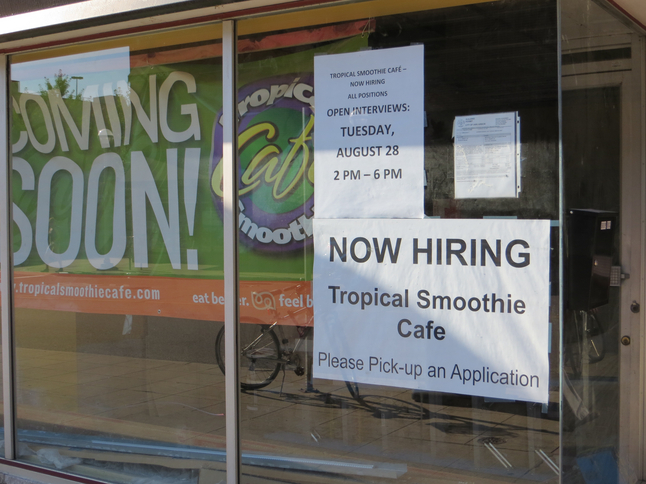 Ben Freed | AnnArbor.com
Another promising sign for the area's economy is literally a sign. More accurately, it's a number of signs reading "Help Wanted," "Now Hiring," or "Please Take an Application" hanging in the windows of local restaurants.
This hiring boom, combined with numbers from the Bureau of Labor Statistics indicating that the restaurant business is already at a record number of employees, is a strong indicator that Washtenaw County is getting back on track..
While it's not a perfect bellwether for the economy as a whole, the restaurant industry tends to do well when people have more disposable income.
"The causality is that when the overall economy in the area strengthens, the restaurants follow," said Donald Grimes, an economist who prepares a yearly forecast for the Washtenaw county region. "A lot of this activity is going along with the growth of the IT and healthcare industries in the region, particularly health care research."
BLS statistics indicate the restaurant and accommodation sector in the Ann Arbor area employed approximately 12,900 people for both June and July. That's the most employed in the sector in any two-month period dating back to 1990. These numbers are not seasonally adjusted, but the growth by 1,100 jobs in the sector between January and June was the biggest gain over a six-month period in that time span.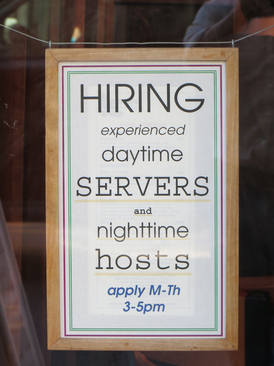 Ben Freed | AnnArbor.com
More than 70 ads seeking restaurant employees in the Ann Arbor area have been posted on craigslist since Monday. If the industry continues to grow, it could reach the 13,000-employee mark for the first time next month. Restaurants such as
Tropical Smoothie Cafe
and the new
Cafe Habana
location will be among those hiring new staff.
Some of the upcoming hiring can be attributed to the return of students to campus in the coming weeks.
"When students are in town, that's when we have business," Mike El-Awar, an employee at Rendezvous on South University, said.
"We always hire a lot of people in the fall, because that's when we need them."
However, not all of the hiring is due to an increase in business. Joe Polidori, a manager at an Ann Arbor Olga's Kitchen location, said his business stays steady in the fall but it's still when he does most of his hiring.
"We're ramping up because our staff will be minimizing hours because of their school schedules," he said.
The ability to be flexible with hours, and to work during the day, was mentioned by multiple restaurant managers when asked what would set candidates apart.
Grimes said that employment numbers were growing much faster than predicted, and could be the result of speculative investing by some restaurateurs.
"It's that businesses are seeing an opportunity here and may be getting a little ahead of themselves," he said. "Some businesses might be opening in expectation of continued growth in the Ann Arbor area. That's indicative of the confidence that's felt right now in the local economy continuing to grow."
Ben Freed covers business for AnnArbor.com. Reach him at 734-623-2528 or email him at benfreed@annarbor.com. Follow him on twitter @BFreedinA2