Retail moves on East Liberty create new Ann Arbor 'fashion destination'
Posted on Tue, Feb 2, 2010 : 6 a.m.
A trio of retail changes in one building on East Liberty Street in Ann Arbor is turning the section of the block into a fashion-related destination block, according to the owner.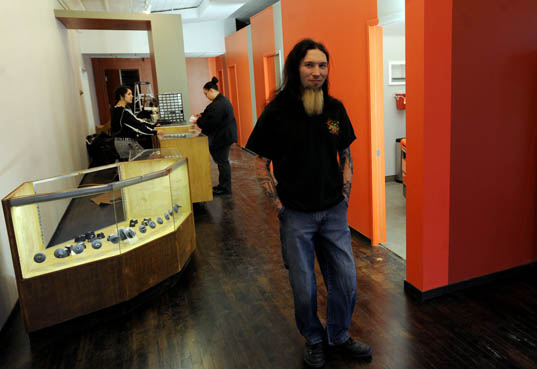 Melanie Maxwell | AnnArbor.com
The moves:
• Tortoise and Hare closed its storefront at 209 E. Liberty and moved out on Jan. 31, consolidating its operations into its store in northeast Ann Arbor.
• Sole Sisters, based on South Fourth Avenue since it opened in 2008, expects to move into the former running store by early March.
• Pangea Piercing moved over the weekend from a second-level space at 213 S. State to 211 E. Liberty, the former home of CP&U computer store.
The retailers join Abracadabra Jewelry, Chelsea Flower Shop and the Cloverleaf Restaurant as the first-floor tenants in the building. Also in the mix - but in a separately owned property - is longtime downtown retailer Sam's Clothing.
The changes create a new mix for the west end of the block, said owner Michael Yi.
The upper level office space also includes a designer, Rebecca Lambers Couture, he added.
"I hope they all help each other to spread the word and make it into a fashion destination," Yi said.
The shops moving to the location will get a new level of exposure, said Yi, who bought the building in 2005 because of its place along the main connector between Main Street and the State Street area of the University of Michigan campus.
The increase in pedestrian traffic compared to South Fourth Avenue was part of the appeal to the move, said Tamar Fowler, owner of Sole Sisters. It also made the additional cost worthwhile, she said.
"I'm still trying to get a lot of students down here," she said. "I'm thinking that on Liberty they may find out about us and find out about our store. Not too many walk down this street."
Fowler's store is 800 square feet, so she'll gain about 300 square feet with the move. She'll use that space to add apparel to her mix of shoes and accessories, and she'll have the storage space in the basement to expanding her footwear inventory.
Pangea Piercing also plans to expand its display space with its move, since its new location is double the size of the previous shop.
"We have three times the amount of jewelry," said j.c.potts, estimating over 100,000 pieces in his new displays. Many of the pieces are high-end, appealing to his largest customer base: women ages 20 to 40.
Potts invested about $60,000 turning the former computer store into the new shop, working with Ply Architecture of Ann Arbor to get the right look and also the unique, state-of-the-art functions for his piercing business that also has on-site jewelry manufacturing. The space includes two piercing rooms and a sterilization area with a unique workflow.
But as the new businesses align in the block, Tortoise and Hare had planned for months to close its store, due to slowing sales.
"We've noticed in the last several years that business got slower and slower downtown," said manager Monica Joyce.
Staff had another store in the city to compare it to: Tortoise and Hare has operated a larger store in Traver Village for about 10 years, Joyce said. All inventory and staff have been moved to that location.
Customer traffic - both from Ann Arbor and nearby communities like Plymouth and Ypsilanti - had already shifted to that store, Joyce said: "It's easier for parking and easier to find, in a way."
And while the economy has affected the business, it was more pronounced downtown.
"It's been fairly steady at Plymouth Road," Joyce said.
In addition to closing the store, Tortoise and Hare turned over two race operations to an events manager, allowing the business to sponsor the running events and focus on its core retail facility.
Joyce said the decision to close the store comes as its lease was ending and management was focusing on operating efficiencies.
"We're excited about it," she said. "I think we'll be a more efficient operation and better able to serve customers."
Meanwhile, Yi has part of the building listed for sale: The west end of the block, including second-floor office space, while he and his partners plan on retaining the two storefronts at the east end. The list price is $1.749 million.
Sign up here for the weekly Ann Arbor Business Review newsletter, sent every Thursday by AnnArbor.com.