Posted on
Sat, Dec 10, 2011 : 5:58 a.m.
Return fraud during the holiday season to cost retailers $3.5 billion
By Lizzy Alfs
Retailers are no stranger to return fraud and other shopping crimes, but retail crime rates grow significantly during the holiday season when stores are bustling with shoppers.
This holiday season, the retail industry is expected to lose $3.48 billion to return fraud, according to a survey by the National Retail Federation. That's down from $3.73 billion in 2010, but up from $2.74 billion in 2009.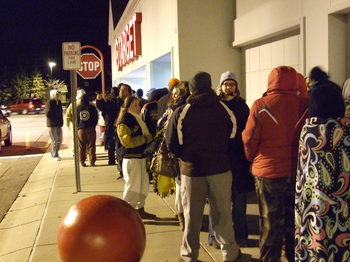 Nathan Bomey | AnnArbor.com
Return fraud is expected to cost retailers a total of $14.37 billion in 2011, with 89.1 percent of retailers reporting they have experienced the return of stolen merchandise.
The NRF identifies three common methods of return fraud:
--Returning items like special occasion apparel and electronics after they have been used.
--Returning merchandise purchased on fraudulent or stolen tender.
--Using counterfeit receipts to return merchandise.
To crack down on these shopping crimes, many retailers have adopted stricter return policies in the past few years, such as requiring receipts and making customers show identification when returning items. Other businesses will only allow in-store credit for returns.
The NRF reports that 12.6 percent of retailers will tighten their return policies to combat return fraud during this holiday season.
"Retailers have been putting checks and balances in place to prevent people from taking advantage of stores' return policies, which raises prices for honest shoppers," Joe LaRocca, senior asset protection advisor for NRF, said in a statement.
Although retailers' return policies are getting stricter, 90.1 percent of people reported that they find return policies to be fair, which is up from 88.4 percent last year.
To help retailers combat the loss in profits due to return fraud, Wren Solutions, a loss-prevention technology provider, is offering businesses crime deterrence tips this holiday season. Among the advice:
--Electronic receipts can be easily manipulated for people to make fraudulent returns.
--Keep customers' information on file with a history of their activity to help determine legitimate customers.
--Put key return policies in place and consistently enforce them
--Offer store credit instead of cash for returned merchandise or require that purchases be returned within 30 days.
Lizzy Alfs is a business reporter for AnnArbor.com. Reach her at 734-623-2584 or email her at lizzyalfs@annarbor.com. Follow her on Twitter at http://twitter.com/lizzyalfs.