Posted on
Wed, Oct 31, 2012 : 2:59 p.m.
Wafel Shop redux: Owner signs lease for new space in downtown Ann Arbor
By Lizzy Alfs
It took seven months, a Kickstarter campaign and a lot of time and energy, but Noah Goldsmith found a new — and more visible — location for his Belgian waffle restaurant.
Goldsmith signed a lease last week for the former Cafe Japon space at 113 E. Liberty St. in downtown Ann Arbor.
"I was really sad to hear Cafe Japon was going out of business because (Miyoko Honma) was a fabulous pastry chef," Goldsmith said.
"But it's a fabulous space for us and we're very excited."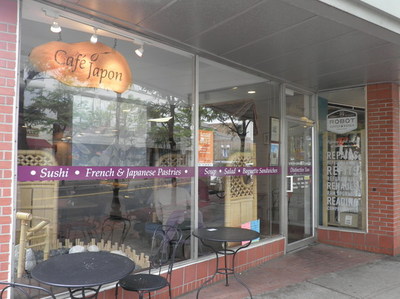 Lizzy Alfs | AnnArbor.com
Goldsmith, who grew up in Ann Arbor and attended Community High School, announced in February that he was opening Wafel Shop on Ann Arbor's South Fourth Avenue. But after realizing the building's electrical capacity would not meet the restaurant's needs, Goldsmith had to cancel those plans.
"It was tough losing that last space," he said. "You can always recoup money, but time and energy was lost…it was hard."
Goldsmith then launched a campaign on the online funding platform Kickstarter, raising $3,000 to purchase waffle irons. But more importantly, the campaign raised awareness for the Wafel Shop and got the Ann Arbor community involved as Goldsmith searched for a new location.
"Really, what we wanted to use Kickstarter for was awareness and get people excited and let people feel like they had a stake in a small business opening up," he said.
Goldsmith also landed a new business partner, Tia Hoffman, who has operated several cafes and a coffee roasting shop.
The concept for Wafel Shop hasn't changed since February; the restaurant will serve two different types of Belgian waffles with an extensive selection of toppings. The Brussels waffle has a fluffy interior and crispy exterior, and the Liege waffle is a dense, sweet waffle with chunks of pearl sugar on the inside.
There will be an array of waffle toppings, from dulce de leche to ginger cookie spread and locally sourced fruits. There also will be juices and coffee.
The restaurant's tentative hours are 7 a.m. to 10 p.m., but Goldsmith said that could change based on customer demands.
"If we want to expand the offerings, we certainly have the ability to do that," he said. "We'll start out with the plan we've been working on and see where the customers kind of guide us."
Preliminary construction work started on the 1,400-square-foot space Tuesday and Goldsmith is aiming for a December opening. Managed by Ann Arbor-based Oxford Companies, the space was listed for lease for an annual $28 per square foot with Colliers International Ann Arbor.
Just a block east on Liberty Street, Royal Oak-based What Crepe? announced plans in September to open in the former Squares restaurant space. Together, Goldsmith said the restaurants are creating a "dessert district" in the Liberty Street corridor.
"We're glad more businesses are coming into downtown Ann Arbor," he said. "I think it's going to make Liberty Street a dessert district and we're excited about that."
Lizzy Alfs is a business reporter for AnnArbor.com. Reach her at 734-623-2584 or email her at lizzyalfs@annarbor.com. Follow her on Twitter at http://twitter.com/lizzyalfs.