Posted on
Mon, Sep 19, 2011 : 10:52 a.m.
Rick Snyder: 'Backsliding' in U.S. economy hurts Michigan, but state is still heading in right direction
By Nathan Bomey
(See related story: Gov. Rick Snyder: Personal property tax reform in Michigan could take 5 to 10 years)
Gov. Rick Snyder today acknowledged that Michigan's economy has gotten caught up in a broader slowdown that's affecting the U.S. economy, but he maintained that the state is heading in the right direction.
"The national economy and the world economy have become more difficult, and there's been some backsliding," Snyder said this morning in a meeting with AnnArbor.com's editorial board. "And it's applying not just to Michigan but to the majority of states in some fashion."
The first-term Republican added: "The positive is we're still a point better than we were a year ago. And compared to the rest of the country as a whole, they're only a half point better. So in a relative sense we've made more improvement than the rest of the country, but that's not good enough. We need to keep working hard to do even better."
Snyder's comments come as Michigan has endured several months of negative job reports.
The state's unemployment rate has increased four straight months after falling for the first four consecutive months to start the year.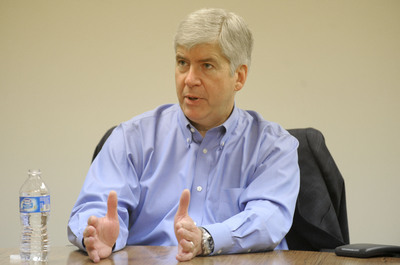 Angela J. Cesere | AnnArbor.com
The jobless rate in August was 11.2 percent, up from 10.9 percent in July and a low of 10.2 percent in April. It's down from 12.2 percent a year earlier.
Nationally, economists have suggested that a double-dip recession is possible.
"We can't change the nation or the world, but we can make sure we're prepared; we're doing the things to say we're going to do better in a relative sense to the rest of the country and the world," Snyder said. "And I feel pretty good that compared to the rest of the country, we're on a path, a motion, a direction to say we're moving from a bottom-tier state to a top-tier state."
Pressure is building on Snyder — a former Ann Arbor venture capitalist and computer executive who took office Jan. 1 — to deliver an improved economy.
"The governor needs to make jobs his top priority right now," Michigan Democratic Party chairman Mark Brewer said in a statement Thursday. "We have a growing unemployment rate of 11.2 percent and the number of jobs is shrinking. When are the governor and the Republicans going to focus on jobs? When are they going to start focusing on putting people back to work in this state?"
Brewer said Snyder's actions stand in stark contrast to the leadership of President Barack Obama, who "has his eye on that goal" of creating jobs.
Obama, of course, faces his own wave of political pressure — but Snyder declined to blame Washington for Michigan's economic problems.
"I don't blame anyone for anything," Snyder said. "That's not part of my model."
In the first half of the year, Snyder worked with the Republican-controlled state Legislature to reform Michigan's tax code, cutting business taxes by about $1.8 billion, slashing business tax credits and implementing a phased-in tax on pensions. He also cut funding for public schools, higher education and municipalities.
Collectively, the actions structurally balanced the state's budget but contributed toward a decline in Snyder's approval ratings.
But this morning Snyder reiterated a belief that the majority of the state supports his efforts.
Contact AnnArbor.com's Nathan Bomey at (734) 623-2587 or nathanbomey@annarbor.com. You can also follow him on Twitter or subscribe to AnnArbor.com's newsletters.