Posted on
Thu, Feb 11, 2010 : 6 a.m.
Washtenaw County business leaders fuel Rick Snyder's run for Michigan governor
By Nathan Bomey
The Ann Arbor region's business community is investing in Republican Rick Snyder's Michigan gubernatorial campaign.
Other Republicans are not getting traction in Washtenaw County fundraising circles, based on state documents.
Of the 72 individuals who contributed the $3,400 maximum to Snyder's campaign during 2009, some 60 percent listed Washtenaw County municipalities as their addresses.

Only four local donors gave the maximum to Snyder's three top competitors for the nomination: Attorney General Mike Cox, U.S. Rep. Pete Hoekstra and Oakland County Sheriff Michael Bouchard. (They were: McKinley Inc. CEO Albert Berriz, Paula Berriz and U-M nurse Vivienne Young for Cox; and Ypsilanti's John Cueter for Bouchard.)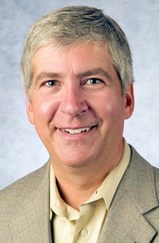 Snyder, a founder of Ann Arbor SPARK and former president of computer maker Gateway, has deep ties to the technology businesses in the Ann Arbor region. As CEO of two Ann Arbor-based venture capital firms over the last 13 years, he was a co-founder of Ann Arbor-based software firm HealthMedia and a chairman of Ann Arbor-based medical devices firm HandyLab.
"Rick has built strong relationships with leaders in the business community in this region through his leadership in economic development and his dedication to creating jobs," Snyder spokesman Jake Suski said in an e-mailed response to an AnnArbor.com request. "We're proud to have a great amount of support not only from Washtenaw County, but throughout all of Michigan."
Those connections are paying off in his gubernatorial fundraising efforts. Snyder's campaign on Sunday ran its first ad -- the first of the entire gubernatorial contest - during the Super Bowl in Michigan TV markets.
"Since the Super Bowl ad aired, we've seen a substantial increase in online contributions and support for our campaign," Suski said.
Still, Snyder's own pocketbook is most important to his campaign. Of the $3.2 million he raised in 2009, nearly $2.7 million came from Snyder himself. In comparison, Cox raised $1.8 million.
Here's a list, compiled by AnnArbor.com, of Washtenaw County donors who gave at least $1,000 to Snyder's campaign in 2009. Following that is a list of other notable donors outside of Washtenaw County who gave at least $1,000. Search a database of all gubernatorial donors here.

Washtenaw County donors for Rick Snyder in 2009 (alphabetical order by last name; business titles are based on donor records or AnnArbor.com research)
$3,400 (maximum during primary)

Essel W. Bailey Jr., managing director of Alpha Capital
Robert Buckler, retired ex-president of Detroit Edison
Cheryl Brust, homemaker

Eric W. Brust, orthodontist
Brad Canale, executive director of the University of Michigan College of Engineering
Michael Chrissos, physician

Martha Darling, retired
Wendell Dunbar, CPA for Dunbar & Martel LLC
Ron Feldeisen, vice president of Key Safety System
Pam Feldeisen, homemaker
Bill Ford Jr., executive chairman of Ford Motor Co.
Lisa Ford, homemaker
Joseph J. Fitzsimmons, retired
Claes Fornell, U-M professor and founder of American Customer Satisfaction Index

Sheila Hamp, homemaker
Wan-Thai Hsu, chief information officer of Discera
Lisa Jaqua, strategic account executive for Ingenix
Stephen Jaqua, CEO of Pinstripe Publishing
Steven Hamp, owner of Hamp Advisors
Todd Kelley, CPA for Pietrasiuk Kelley & Kelley PC
Thomas Kinnear, executive director of U-M's Samuel Zell & Robert H. Lurie Institute for Entrepreneurial Studies
Michael Marsh, owner of Flatout Bread
Stacey Marsh, president of Flatout Bread
Bill Martin, athletics director for the University of Michigan
Roger Newton, CEO of Esperion Therapeutics and co-discoverer of Lipitor
Larry Nisson, executive coach for Larry D. Nisson & Associates
Lucie Nisson, retired
Michael Nisson, president of MDN Holdings
Anita Paolella, self-employed
Neil Paolella, president of Arbor Asset Management LLC

Roland Pohlman, owner of West End Grill

Joshua Pokempner, vice president of Elmers Products Inc.
Jeri Rosenberg, self-employed consultant and health coach
Richard Sheridan, CEO of Menlo Innovations
Vic Strecher, U-M CVO and co-founder of HealthMedia
John R. Ternes, chief financial officer for HealthMedia
Marc Weiser, co-founder of RPM Ventures

Mary Weiser, homemaker
Dawn Williams, homemaker

Jeff Williams, CEO of Accuri Cytometers and former CEO of HandyLab
Pamela Wood, Ufer and Co. sales executive
Thomas Zurbuchen, associate dean for entrepreneurial programs for the U-M
College of Engineering
$2,504
Brian Vlazny, client service assistant for Arbor Asset Management LLC
$2,500

Beth Fitzsimmons, retired
Conrad Kalitta, CEO of Kalitta Air LLC

Deepa Ramsinghani, officer of Issue Media Group
$2,000
Herbert Black, self-employed insurance agent
Douglas A. Busch, owner of Busch's
David Canter, U-M William Davidson Institute researcher and former site leader of Pfizer in Ann Arbor
Michael Chrissos, physician
Paul Dimond, senior counsel for Miller, Canfield, Paddock and Stone PLC

Stephen Dobson, retired
Rene Greff, owner of Arbor Brewing
$1,950
Mahendra Ramsinghani, self-employed
$1,700
David Gregorka, vice president of HealthMedia

Joan Morrell, office manager at Emerson School
$1,500
Charles Boyd, otolaryngologist

Ted Dacko, president of HealthMedia
George M. DeGrood III, attorney

Rossana M. DeGrood, physician for Integrated Health Associates
Francine Jones, realtor for Charles Reinhart Co.

David Lusk, CEO of EQ Co.

Terry Morrison, investor
Ron Reed, managing partner of Seneca Partners
Genie Sherard, homemaker
$1,000
James Adox, managing director of Venture Investors
John Balbach, director of major gifts for U-M in mid-Michigan
Mark Boonstra, attorney at Miller, Canfield, Paddock and Stone PLC

James Byrne, retired
Mary Campbell, general partner of EDF Ventures
Sheila Crowley, registered nurse at U-M
Jerry Frost, retired

Richard Haller, president of Walbridge Aldinger Co.

Phil Jenkins, retired
John Langs, real estate agent for Magellan Properties
Bhushan Kulkarni, CEO of GDI Infotech
Swatee Kulkarni, homemaker

Kevan Lawlor, CEO of NSF International

Diane Mukkala, director at Daycroft Montessori School
Ed Pagani, general manager of Beckman Coulter
Diana Paolella, retired

Frank Paolella, retired
Joseph A. Sesi, president of Sesi Automotive

Yvonne T. Sesi, physician and attorney
Scott Underwood, owner of Farmer & Underwood Transportation
Thomas W. Ufer, executive for Ufer & Co.
Prominent non-Washtenaw County donors for Rick Snyder who gave at least $1,000 in 2009 (alphabetical order by last name; business titles are based on donor records or AnnArbor.com research)
$3,400
Keith Alessi, CEO of Westmoreland Coal Co. (Colorado Springs, Colo.)
John E. Coleman, CEO of Unisys (Annapolis, Md.)
Richard Dauch, CEO of American Axle & Manufacturing (Bloomfield Hills)
David T. Fischer Sr., owner of Suburban Collection (Bloomfield Hills)
David Fischer Jr., owner of Suburban Collection (Bloomfield Hills)
James Nicholson, president of PVS Chemicals Inc. (Grosse Pointe)
John R. Rakolta Jr., CEO of Walbridge Aldinger Co. (Bloomfield Hills)
Margaret Ann Riecker, president of Herbert H. & Grace A. Dow Foundation (Midland)
Chris Rizik, partner with Ardesta and CEO of Renaissance Venture Capital Fund (Northville)
Colette Rizik, homemaker (Northville)
$3,000
Richard Baird, partner at PricewaterhouseCoopers (Palatine, Ill.)
$2,000
Eugene A. Gargaro, chairman of Masco Corp. (Grosse Pointe Shores)
$1,000
James McCann, CEO of 1-800-Flowers.com (Manhasset, New York)
Mark Rohde, president of Rohde Construction (Grand Rapids)
Robert P. Ufer, co-chairman of Service Brands International (Bloomfield Hills)
Sam Zell, chairman of Equity Group Investments (Chicago, Ill.)



Contact AnnArbor.com's Nathan Bomey at (734) 623-2587 or nathanbomey@annarbor.com. You can also follow him on Twitter