Posted on
Fri, Feb 18, 2011 : 4:36 p.m.
Rick Snyder in Ann Arbor: 'This is about creating an exciting future'
By Nathan Bomey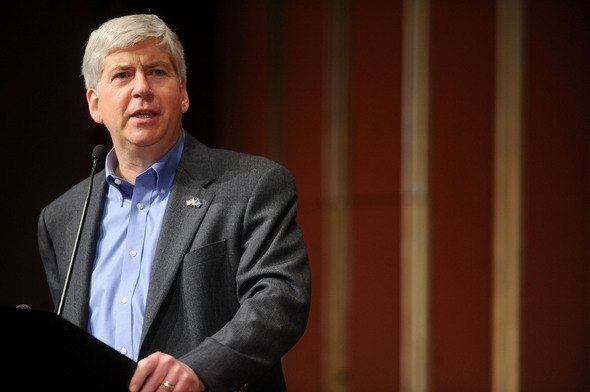 Angela Cesere | AnnArbor.com
Michigan Gov. Rick Snyder hinted this afternoon that he has no plans to back down from the massive changes he suggested in his budget proposal Thursday.
Snyder, speaking to student entrepreneurs at the Michigan Clean Energy Prize Competition awards ceremony in Ann Arbor, said he's aiming high for a reason.
But he doesn't necessarily expect to get everything he wants.
"If everything I do just happens, it means I didn't do my job right, it means I didn't challenge the system enough," he said. "If every one thing I did just happened, it was too conservative. This is about doing new things. This is not about living in the past or the present. This is about creating an exciting future."
Snyder's comments come as Lansing is gearing up for a battle over his 2011-12 budget proposal, which would lower business taxes by $1.8 billion, cut spending by $1.4 billion and boost revenue by taxing pensions and slashing some individual income tax exemptions.
The proposal has drawn the ire of Democrats, some Republicans, senior citizen advocates, universities, municipalities, school districts and some specific industries, such as film companies.
But Snyder told the college student entrepreneurs he was committed to "create an environment for you to succeed."
"It's about more and better jobs and about creating a future for all of you to (ensure) this is a state you want to build these exciting enterprises in," Snyder said.
At the Clean Energy Prize Competition ceremony, organized by DTE Energy and the University of Michigan, DTE CEO Gerry Anderson veered off script to issue an endorsement of Snyder's budget approach.
"I want to thank you, governor, for having the honesty and the courage to tell us as citizens where we really stand as a state, to tell us that we're operating our state government in an unsustainable way, to tell us that we're stacking up future liabilities — $47 billion and counting now — that we aren't funding and that we've been kicking the can down the road year after year and leaving those liabilities for generations behind us to deal with," Anderson said.
He added: "Dealing with these issues in a fundamental way now promises a much brighter future for our state."
Clean Energy Prize awards
The ceremony was organized to honor the four winners of the multi-university Clean Energy Prize Competition, a business plan competition for student entrepreneurs.
A U-M team called CSquared Innovation, led by Nick Moroz, won first place. The company is developing laser-assisted technology to improve the production of nanostrucutures for use in lithium-ion batteries, solar panels and biomedical applications.
A U-M team called Smart Energy Loan Fund earned second place. The team is developing a financing model to enable energy efficient building upgrades for local governments.
A U-M team called Impact Card, which wants to help credit card companies create reward systems in which points can be translated into funding for renewable energy projects, won third place.
A Western Michigan University team called Perennial BioEnergy won fourth place.
The winners will share $100,000 in funding.
Contact AnnArbor.com's Nathan Bomey at (734) 623-2587 or nathanbomey@annarbor.com. You can also follow him on Twitter or subscribe to AnnArbor.com's newsletters.