Posted on
Fri, Oct 7, 2011 : 8:19 a.m.
Rick Snyder, recalling personal experience with identity theft, launches initiative to protect Michigan from web attacks
By Nathan Bomey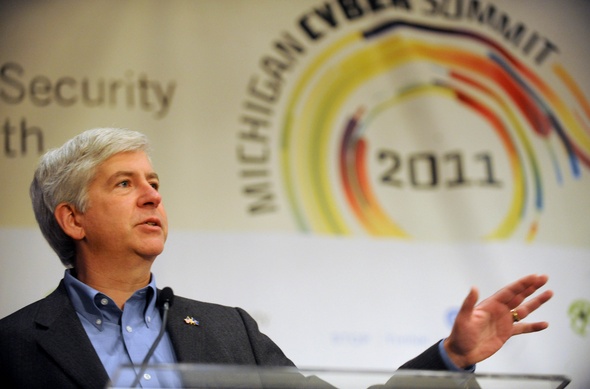 Angela Cesere | AnnArbor.com
(This story was updated several times as the event unfolded.)
Michigan Gov. Rick Snyder said this morning that he will launch several initiatives designed to protect the state government from cybersecurity attacks.
Among the new initiatives is a "Cyber Command Center" that will be led by the Michigan State Police and will "coordinate combined efforts of cyber emergency responders," according to a news release.
Collectively, Snyder said the Michigan Cyber Initiative would position the state to mitigate the threat of web security attacks. He said the state would also form a new group called the Michigan Cyber Defense Response Team to advise state leaders.
Snyder, a former Ann Arbor venture capitalist, is speaking this morning at the Michigan Cyber Summit at the Ann Arbor Marriott Ypsilanti at Eagle Crest. Policy leaders, educators and business people are discussing the threats and opportunities presented by cybersecurity.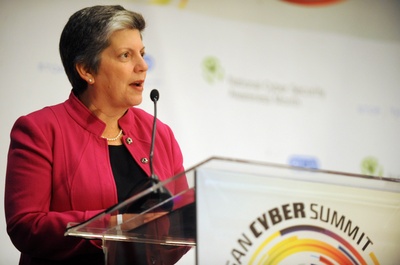 Angela Cesere | AnnArbor.com
U.S. Homeland Security Secretary
Janet Napolitano
said her department is implementing a comprehensive information technology initiative to protect the nation's "industrial control systems that operate our power grid, manufacturing systems" and other infrastructure.
Snyder, who spent six years as an executive at computer-maker Gateway Inc. in the 1990s, described a personal experience with identity theft and becoming a victim of digital crime.
"I'm a victim," he said. "My family and I have been a victim of cyber crime. If you think about it, it's probably the most pervasive single crime in this country. Most of us have been a victim in some fashion."
Snyder, without providing many details, said his personal financial information had been compromised about five years ago. A multi-millionaire, Snyder said he learned his identity had been stolen when he started getting "harangued by collection agencies" over bills he didn't have.
"It took over two years to finally clean it up," he said. "That was a major hassle."
He also said that a few years ago, he discovered that a computer he had set up for his children to use had apparently been compromised and used in a botnet, a secret network of computers used by hackers to coordinate web attacks.
Snyder said his personal experiences underscore the broader issue: cybersecurity is becoming a major problem for individuals, businesses and governments.
"I'm giving you my view, this is the single greatest threat to our national security," he said. "The challenge is: are we going to do something before the cyber crisis arrives or not? We need to step it up, we need to understand that this is such a great threat at the individual level and at the national security level that it can't go on the back burner."
Howard Schmidt, White House cybersecurity coordinator and special assistant to President Barack Obama, said the challenges of cybersecurity also present an economic opportunity.
"Our economic prosperity and competitiveness in the 21st century depend on how effectively we do cybersecurity," Schmidt said.
U.S. Rep. John Dingell, D-Dearborn, said the Government Accountability Office reports that threats to government networks have increased by 650 percent over the last five years.
U.S. Rep. Mike Rogers, R-Howell and chairman of the House Intelligence Committee, suggested that the federal government needs to leverage its strong IT security platform to help protect private companies.
Rogers, who said that 80 percent of web attacks can be avoided, described three kinds of companies: "Those who have been hacked, those who don't know they've been hacked, and those who will be hacked."
Snyder said his Michigan Cyber Initiative would include the development of a curriculum to educate students about cybersecurity and the creation of new economic development resources to boost Michigan's cybersecurity industry.
Napolitano described education as critical for preparing the nation to fend off cybersecurity attacks.
She said there's an "urgent need to develop and enhance cybersecurity education programs particular to train today's and tomorrow's cybersecurity" leaders.
Napolitano also urged conusmers to follow basic cybersecurity suggestions by, for example, reviewing privacy settings, not opening attachments from unknown emailers, choosing complex passwords and changing passwords often.
"Each of us must stop and think before we connect," she said. "The urgency here is real, the need is great, the threats exist."
Contact AnnArbor.com's Nathan Bomey at (734) 623-2587 or nathanbomey@annarbor.com. You can also follow him on Twitter or subscribe to AnnArbor.com's newsletters.