Posted on
Sun, Oct 31, 2010 : 6:04 a.m.
Rick Snyder or Virg Bernero: Can Michigan's next governor make a difference?
By Nathan Bomey
Call it a hidden issue in Michigan's gubernatorial race between Republican Rick Snyder and Democrat Virg Bernero.
Policy proposals aside, can either candidate topple the thick partisan wall that divides Lansing and bring legislators to the bargaining table?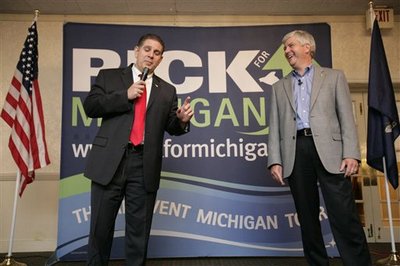 Patricia Beck | Associated Press
Can the winner - who will be saddled with leading the charge to eliminate a
$1.42 billion deficit
that looms for the 2011-12 fiscal year - make a meaningful difference?
The code for disentangling Michigan's legislative gridlock lies in the next governor's people skills, said Craig Ruff, a lecturer at the University of Michigan's Ford School of Public Policy and senior policy fellow at Lansing-based Public Sector Consultants.
Ruff said the winner of Tuesday's election would enjoy a honeymoon period during which he'll have a decent chance at pushing through legitimate reforms. But his ability to make friends and build a coalition is critical to smoothing the path toward change.
"The new governor has got to use personal persuasion. He's got to get to know the legislators on a personal basis. Either one of the candidates for governor currently knows, at most, a handful of legislators personally," Ruff said. "You've got to bring legislators over to your governor's residence and wine and dine them, and look at them in the eye and tell them that your opinion matters."
Whether the next governor can assemble a broad legislative coalition will determine whether Michigan gets business tax reform, a new economic development strategy, adjustments to state employee compensation and other changes.
Reviving Michigan's economy - which has lost about 600,000 jobs in the eight years Jennifer Granholm has been governor - is sure to be the next governor's priority.
But skeptics question whether the governor can make a difference - and whether the candidates' proposals are fiscally plausible.
Snyder wants to replace the controversial Michigan Business Tax with a 6 percent corporate income tax. Bernero wants to eliminate the MBT's 22 percent surcharge.

The campaign issues you care about


But those tax cuts would require major structural budget changes in the 2011-12 budgeting season - changes that may prove to be politically unpopular.
"That's where I think it will take great courage," Michigan State University economist Charles Ballard said. "You can do it just by cutting spending. But we've already made such massive cuts. Of course, in this political environment, neither of them wanted to talk in the debate about what taxes they would raise. I'm in favor of eliminating (the MBT), but only if you make up the revenue from another source, because the budget crisis is so bad."
Michigan's budget crisis demands effective leadership, but it's not the only place the governor can make a difference.
The next governor can vocalize support for an entrepreneurial movement in Michigan, fueled by startups, entrepreneurs and the state's network of 15 public universities.
"The adaptability and implementation of change really lies in the private sector, and the private sector is run primarily by entrepreneurs who can exploit business opportunities and take risks and display a higher level of innovativeness," said Ankit Mehta, president of MPowered Entrepreneurship, a student group that supports entrepreneurial activities at U-M.
"The governor can push for that."
Mehta, a junior at U-M, said the next governor could provide leadership in pushing the educational system to integrate entrepreneurship into coursework and extracurricular activities. He said the next governor needs to help Michigan understand that risk-taking is the hallmark of an entrepreneurial economy.
"There needs to be inspiration and empowerment come from the government, but there also needs to be action and support that follows, whether it's capital, whether it's mentorships, other resources that can be available to students and community members that wish to make this change," Mehta said.
Lou Glazer, president of Ann Arbor-based think tank Michigan Future Inc., said business tax cuts - which both candidates have proposed - wouldn't save Michigan's economy.
"I mean, read a book, there is no pattern of states with lower business taxes … having better economies. It doesn't matter," Glazer said. "What a governor can do - I think he can help us as individuals and the region adjust to the new realities, position us to do better in the new realities as opposed to changing the new realities.
"That's a completely different agenda than what the public wants or, by and large, what either candidate is campaigning on."
Glazer hopes the winning candidate places a heavy emphasis on revitalizing Michigan's distressed urban cities - in particular, Detroit. His research indicates that talented young professionals flock to vibrant big cities. About half of recent Michigan college grads leave the state less than a year after getting their degrees.
Both Snyder and Bernero have said that injecting life and economic activity into Detroit and other major cities would be a key priority of their administrations.
"To give these guys credit, both Snyder and Bernero have the best urban policies since (former Gov. William) Milliken," Glazer said. "In that, they're both right."
Convincing legislators and the public that those policies are worth a shot remains a significant challenge.
Term-limited Michigan State Rep. Pam Byrnes, D-Lyndon Township, who ran unsuccessfully for a state senate seat in August's primary election, said she's optimistic that the next governor can break Michigan's political gridlock.
"But I'm the eternal optimist," Byrnes said. "I really believe, if you bring labor to the table, if you bring the budget people to the table, they have a part of it, rather than just saying, 'This is what were doing, this is the legislation and you better like it.' I think they need to be at the table with an idea that they're going to have to compromise. That's going to be up to the governor to ensure that's the end goal."
Rich Sheridan, CEO of Ann Arbor-based software firm Menlo Innovations, said the next governor's success is predicated on the continued engagement of Michigan residents.
"The importance of it is what kind of leadership can he inspire in all of us?" said Sheridan, who is supporting Snyder. "This isn't about sending one guy up to Lansing to say, fix everything and the rest of us are going to keep on with business as usual.
"The days of government is separated from community, is separated from business, is separated from the educational community - those days are gone. We have to have a collaborative effort in our state to achieve a common purpose."
Contact AnnArbor.com's Nathan Bomey at (734) 623-2587 or nathanbomey@annarbor.com. You can also follow him on Twitter or subscribe to AnnArbor.com's newsletters.