Posted on
Thu, Dec 8, 2011 : 9 a.m.
Rick Snyder to Chinese investors: 'You're over-weighted in your portfolio'
By Nathan Bomey
Gov. Rick Snyder, a former Ann Arbor venture capitalist, told Chinese investors during a trip to Asia in September that they should consider diversifying their investments, according to a transcript of an interview yesterday with the Detroit Free Press.
Snyder said he offered a critique of the Chinese business executives' strategies.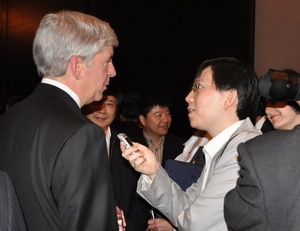 Photo courtesy of the Michigan Economic Development Corp. via Facebook
"I met with some of the people that manage trillion dollar portfolios of successful Chinese companies and they said, 'Why should we do something in Michigan?'" Snyder recounted. "They expected, I think, the traditional political answer. My response was, 'Basically you're a portfolio manager, you have an over-weighted portfolio and done fabulous so congratulations. But you're over-weighted in your portfolio in this sector and you need to diversify your portfolio."
It's not clear whom Snyder was referring to. He met with a number of high-level politicians and business executives during the trip. In Japan, he met with executives such as Katsuaki Watanabe, vice chairman of Toyota Motor Corp..
Snyder added: "You can go put (investments) in Treasuries or other financial instruments and get no return or you can make a great investment in a value place to be in the world which is Detroit, Michigan. So come invest in real assets here because you've got all the upside."
Read the full transcript of Snyder's interview with the Free Press here.
Contact AnnArbor.com's Nathan Bomey at (734) 623-2587 or nathanbomey@annarbor.com. You can also follow him on Twitter or subscribe to AnnArbor.com's newsletters.