Posted on
Fri, Dec 30, 2011 : 5:59 a.m.
Rick Snyder's wish for the new year: more immigrant entrepreneurs for Michigan
By Nathan Bomey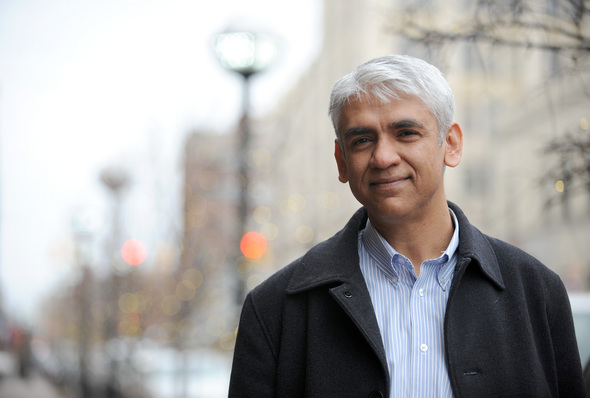 Angela J. Cesere | AnnArbor.com
It's time for
Michigan
to start importing talent.
That's the philosophy underpinning Gov. Rick Snyder's decision to push Washington to loosen federal laws to attract and retain more talented and educated immigrants.
The first-term Republican governor, a former Ann Arbor venture capitalist and computer executive, spelled out his proposals in November in a special message to the state Legislature on talent enhancement.
Snyder faces a steep obstacle in trying to convince Washington to welcome more talented immigrants and to stop forcing immigrant students who earn high-tech degrees from U.S. universities to leave the country after graduation.
But he said it's necessary to meet the employment demands of Michigan's existing companies and to foster entrepreneurship and job creation through startup innovation.
Despite a 9.8 percent unemployment rate, the Michigan Economic Development Corp. says the state has some 77,000 unfilled job openings, citing a list of job postings at MiTalent.org, a state website. Many are in positions that present major recruiting challenges like software programming and specialized engineering jobs.
"We need to continue helping all Michiganders keep their skills up to date and get new ones, but we also need to look at making sure we have a pipeline of talent into Michigan from out of state and are being welcoming to people all around the country and the world to make sure our employers have access to the best and the brightest," said Amy Cell, MEDC's senior vice president of talent enhancement.
"If they can't find it here, they will go elsewhere," Cell said of expanding companies.
Snyder views high-tech immigration as a way to fill some of Michigan's talent gaps.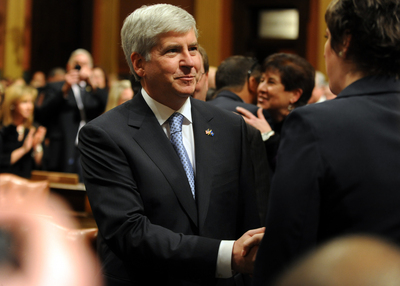 Melanie Maxwell | AnnArbor.com
Immigrants with high-tech skills "like being here, they're being successful here, we should keep them here," Snyder said. "They're creating companies and they're going to create jobs."
The idea that federal law should be overhauled to welcome more immigrant entrepreneurs, investors and high-tech grads has some bipartisan support in Washington.
For example, Sen. John Kerry, D-Mass., Sen. Richard Lugar, R-Ind. and Sen. Mark Udall, D-Colo., reintroduced the Startup Visa Act of 2011 in March. The bill would create new residency options for immigrants who have secured investments to fund the growth of U.S.-based ventures.
Welcoming more educated immigrants with high-tech skills "would be very helpful especially in this town, where you do have a lot of people graduating and high-tech companies," said Jason Eyster, an associate professor and director of Cooley Law School's new Immigrant rights and Civil Advocacy Clinic in Ann Arbor.
"Even though there might be many unemployed accountants or many unemployed engineers, there are those individuals that have specific skills that are in demand and positions that can't be filled," Eyster said.
Still, skeptics argue that the country should focus on retraining and educating U.S. citizens instead of inviting foreigners to take jobs.
"I'm very leery of my governor when he says he wants high-tech immigration because I'm very much negatively affected by low-tech immigration," said Dennis Moore, an underemployed dry wall contractor and director of the Willow Run Tea Party Caucus.
But Snyder says talented immigrants create jobs in Michigan, pointing to legendary Michigan entrepreneurs like Herbert Henry Dow, founder of Dow Chemical Co.
Immigrants creating jobs in Michigan
Among the governor's supporters on immigration reform is Ann Arbor resident Mahendra Ramsinghani, who manages Detroit-based venture capital firm First Step Fund, which has invested in 34 companies. At least five of those were founded by immigrants.
Ramsinghani, an India native who moved to the U.S. in 1999, has spent the last 12 years in various roles involved in economic development, starting companies and investing in new Michigan businesses.
In other words, he's a reflection of the type of immigrant entrepreneur that Snyder wants to attract to Michigan.
Ramsinghani — who almost got deported a few years ago "due to a completely random glitch" in Washington — became a U.S. citizen along with his wife in July 2010. They spent between $10,000 and $15,000 in legal expenses and piled up thousands of pages of documents throughout the process.
Immediately before moving to Michigan in March 1999, Ramsinghani worked for 2.5 years for a software startup in Singapore. It took him 90 days to secure residency there.
"I had like three sheets of paper I needed to fill," Ramsinghani said.
Nonetheless, Ramsinghani never questioned his reasons for coming to America.
"The quality of life was a primary driver. But if you look at the quality of life in Singapore, it is equally good," he said. "The quality of people, the accepting nature of society is what makes America so beautiful. Entrepreneurs are expected, diversity is enjoyed and appreciated."
An appreciation for the role of immigration in creating jobs is why Snyder said he's willing to accept "some controversy" while he lobbies Michigan's Congressional delegation to take up the issue.
Immigrant entrepreneurs started 25.3 percent of U.S. engineering and technology companies from 1997 to 2007, according to a widely cited report by Duke University researchers. Those companies had an estimated $52 billion in sales and nearly 450,000 employees in 2005.
Immigrants made up 12.2 percent of the U.S. workforce in 2000 but were 30 percent more likely to start a company than non-immigrants, according to a 2008 study distributed by the U.S. Small Business Administration. That study found that immigrant-owned businesses generated about $67 billion of the $577 billion in U.S. business income in 2000.
Immigrant business owners in Michigan generated $1.475 billion in business income, accounting for 8.4 percent of the state's total, according to the 2000 U.S. Census. That's higher than surrounding states like Indiana (4.5 percent) and Ohio (5.5 percent) but lower than the national average (11.6 percent) and far below the national leader (California at 22.7 percent).
To boost Michigan's share of immigrant entrepreneurship, Snyder wants:
--The federal government to lift its cap on H1-B visas for foreign immigrants who earn a master's degree from a U.S. university. Snyder called the caps "arbitrary" and said they "fail to recognize the harm done to local economies when states are forced to send away talent they have spent years developing."
-- Congress to create a way for foreign students who earn graduate degrees in science, technology, engineering or math (STEM) to earn an "education green card" that would allow for permanent residency in the U.S.
--The EB-5 Immigrant Investor Regional Center program to be made permanent and amended so that an immigrant could stay in the U.S. by investing $500,000 in a startup and creating at least five jobs here.
What kind of jobs are immigrants creating?
Vicky Farah, a longtime immigration attorney in Ann Arbor whose clients include local tech companies and the University of Michigan, said she likes the idea of more immigrant entrepreneurs — but she questioned whether Snyder's proposals would foster the creation of high-tech companies.
"The people who now want to use this immigration visa, they're like mom and pops who want to open a restaurant," Farah said. "I don't know if that's going to give him the businesses he's contemplating."
Many foreign students, in particular, simply want a job in the U.S. after graduating — not to form a company, Farah said.
"I think he's really focused on the entrepreneurial bent of this, but they are fewer and farther between," Farah said. "Your average foreign student is truly looking for a job."
Farah said one of the biggest problems with the nation's immigration process is that it benefits major companies, which can afford to pay the legal costs to sponsor a prospective immigrant hire and help them navigate the system. They simply have to declare that they first searched the country and couldn't find the talent they needed, then sponsor the immigrant for an H1-B visa.
Small companies can do the same thing, but it's usually too expensive, said Bhushan Kulkarni, CEO of Ann Arbor-based software startup InfoReady Corp., which has about 14 employees.
Kulkarni, an India native who immigrated to the U.S. in 1985 to work for Ford Motor Co., said he only hires immigrants if he can't find the specialized talent he's looking for in the U.S. He also founded Ann Arbor-based information technology consultancy GDI Infotech, which has 120 employees nationally.
"It just takes way too long and way too expensive to do that," he said. "But once your back is against the wall because you just can't find the resources, we end up doing that."
Snyder has directed the MEDC to pursue various initiatives designed to create a more welcoming environment for legal immigrant entrepreneurs.
That doesn't sit well with Moore, the Willow Run Tea Party Caucus leader, who said "high-tech immigration" is "code word for China."
"And I'm very much opposed to Chinese immigration," he said. "It's not the Chinese people. It's China who does not care for America. They are very antagonistic toward us. I don't trust their mindset toward America. I don't want to give them things we can never give back."
Contact AnnArbor.com's Nathan Bomey at (734) 623-2587 or nathanbomey@annarbor.com. You can also follow him on Twitter or subscribe to AnnArbor.com's newsletters.