Posted on
Fri, Sep 16, 2011 : 5:59 a.m.
Rider's Hobby Shop finds new life in partnership with Tree Town Toys store on Plymouth Road
By Lizzy Alfs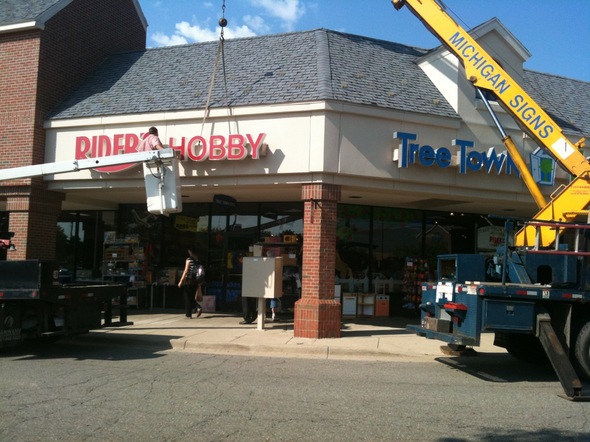 Photo from Tricia Masing
Two months after announcing the landmark
Rider's Hobby Shop
in Pittsfield Township would sell its inventory and
close the business
, there is some good news for local hobbyists.
Owner Brent Martin has moved Rider's Hobby into the same Plymouth Road retail space as Ann Arbor's Tree Town Toys without missing even a day of business. It's a business partnership that allows the two retail destinations to share rental costs and benefit from more foot traffic.
"Rider's Hobby and Tree Town Toys are now running two businesses out of one location," Martin said. "But as far as customers are concerned, we're trying to make sure it's a cohesive experience for them."
The 65-year-old Rider's Hobby Shop, which was originally founded on West Liberty Street in Ann Arbor, was most recently located at 3140 Carpenter Road near Ypsilanti.
In July, Martin announced that the shop would have to sell its inventory and close by August after falling prey to the economic downturn.
But after hearing about the business closing, Hans Masing, co-owner of Tree Town Toys in Traver Village Shopping Center, visited Rider's Hobby for what he thought would be the last time.
As Masing and Martin started chatting, they realized there was potential for a partnership between the two businesses.
"Hans was telling me Tree Town was in the same situation as Rider's, where a few years ago sales were really good and now it has slowed and it's getting harder and harder to pay the rent," Martin said.
Masing wrote in an email that although times are tough, Tree Town is still doing well.
"In fact, our overall business is growing," he said. "We are in the process of moving our warehouse on the south side of Ann Arbor to a better space to accommodate future growth."
The two decided that it could pay off economically if they shared one space, making rent more affordable and drawing more customers into the consolidated store.
"Our products are very complementary to each other," Martin said. "There is a small amount of cross-over in our products, but for the most part, we carry a very distinctive stock that appealed to two segments of the population."
Two weeks ago, Martin closed the Pittsfield Township Rider's Hobby store and moved directly into the 5,000-square-foot Tree Town space, bringing several of his employees with him.
Tricia Masing, Tree Town Toys co-owner, said that Tree Town has condensed areas of the store to better utilize the space, and also moved some of the inventory to the on-site warehouse.
She said the consolidation was a "natural fit" since the businesses are similar and have overlapping customers.
"We have customers that range in all ages and I think it's a really nice fit," she said. "It allows, as our customers grow, for them to easily transition from toys into hobby."
Martin agreed and said this was a good solution for two local retailers to deal with current economic conditions. Plus, he said he's happy to be back in Ann Arbor.
"This is a great location," Martin said. "We started in Ann Arbor years ago, and now we're back in Ann Arbor."
Lizzy Alfs is a business reporter for AnnArbor.com. Reach her at 734-623-2584 or email her at lizzyalfs@annarbor.com. Follow her on Twitter at http://twitter.com/lizzyalfs.