Posted on
Sun, Dec 5, 2010 : 6:02 a.m.
Rising coffee prices jolt Ann Arbor area roasters, cafe owners
By Janet Miller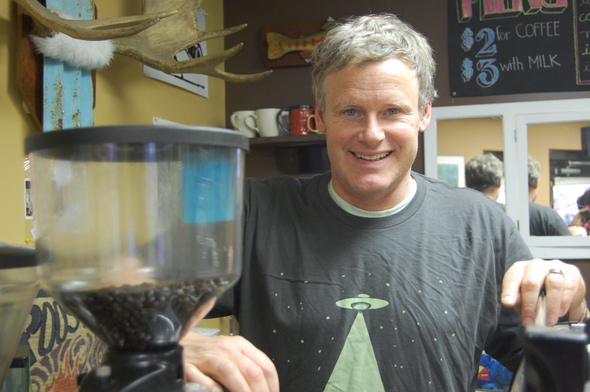 Janet Miller | For AnnArbor.com
The rising cost of coffee is giving Ann Arbor roasters and café owners a caffeine headache. With the price of green beans hitting a 13-year high, local roasters and coffee shop owners are feeling the jolt, forcing some to pass along at least part of the increase to customers.
John Roos, owner of Ann Arbor's Roos Roast Coffee, said he first noticed the price of green beans start to climb last March, and then it spiked in June.
"And it's been climbing ever since," he said, cutting into profit margins. The cost to buy green beans has doubled over the year, he said.
Still, Roos has resisted raising his prices and even switched over to offering all fair trade organic.
"Prices were rising anyway so I figured if I was going to pay more, I might as well pay to get fair trade organic," he said.
While prices began to spike in the spring, Marcus Goller, founder and president of Ann Arbor-based Espresso Royale got his first glimpse of things to come a year ago when he went to buy green beans from Colombia.
"For 20 years, the price of Colombian has been stable," he said. "But when we went to buy a truckload last December, the guy said there wasn't any. The supply had dried up."
Rain in Colombia and the surrounding region was down and the crop yield was 30 percent of normal, Goller said. For the first half of 2010, it was difficult to buy any beans from Colombia, and substitutes had to be found for the blends, Goller said.
Colombian beans have re-entered the market, but at a price.
"We used to pay $1.65 a pound for green (Colombian) beans. Now it's $2.75, if we can get it," Goller said.
Coffee had been fairly stable market, Goller said, but he's seen overall price increases topping 50 percent this year. And he said he doesn't anticipate prices will come down any time soon.
"I wish we could be more like a gas station and set the prices higher when the cost of coffee goes up and bring them down when the price drops. That would be cool. But I don't think our customers would like that," he said.
In response, Espresso Royale in May put through what amounted to a 2 percent average price increase, Goller said. No further increases are planned.
"You have to be very careful," he said. "The profit margin is real slim. A Starbucks or a Peet's manage a 5 percent net profit. We hover between a negative 2 percent and plus 4 percent."
The company, which opened five new stores this year and saw a 3 percent increase in sales, has also cut costs such as switching to a more affordable health insurance plan.
Espresso Royale roasts its own coffee in facilities north of Ann Arbor and has 28 stores, mostly in college towns around the country.
Roasters and café owners are stream lining as a way to offset rising prices. Mighty Good Coffee, with a roasting operation and café in downtown Ann Arbor, has changed its suburban Detroit delivery system, opting for twice-week truck deliveries over the mail system, said owner David Myers.
Much of Mighty Goods' beans are purchased directly from coffee estates or mills, Myers said, rather than through the commodity market, which has registered 40 and 50 percent increases. Because there's no middleman, the price increases for Myers' beans have been tempered, but are still significant, he said. He's seen 20 to 40 percent hikes in his raw coffee bean costs this year.
Weather in Colombia, Costa Rica and Guatemala isn't the only factor in rising coffee prices. There's been a shift in the market. Coffee consumption is on the rise in developing nations such as China and India, increasing worldwide demand.
Major brands like Folgers and Maxwell House have jacked up prices while Starbucks has said it will charge more for certain coffee drinks. Myers said his supplier in San Francisco said Bay Area cafes have increased the cost of a pound of coffee beans an average $1 a pound. California-based Peet's Coffee earlier this fall increased prices on many of their drinks 10 cents and on select bags of their whole beans.
While the retail price of bags of their whole beans fluctuate with the type of bean used, there is a ceiling, Myers said. His whole beans sell for $10 to $13 a bag.
"We're already specialty grade. You have to remember that grocery stores sell coffee for $6.99 or $7.99 a pound," he said.
"If we added the 30 percent increase in our wholesale cost of coffee to our price, people would say we were nuts."
Janet Miller is a freelance writer and a frequent contributor to AnnArbor.com.