Posted on
Thu, May 31, 2012 : 8:14 p.m.
Road & Track magazine will move to Ann Arbor
By Paula Gardner
Road & Track automotive magazine will move its headquarters to Ann Arbor, its publisher announced Thursday.
Hearst Corp. also announced the magazine will have a new editor: Larry Webster, previously automotive editor of Hearst's Popular Mechanics, where he oversaw "the development of the magazine's automotive content across print, web, broadcast and tablet platforms," according to a news release.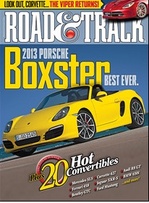 With the move to Ann Arbor, the publication joins its sister automotive magazine, Car and Driver.
It also, according to autoblog, gives the city a unique niche among U.S. auto enthusiasts.
"(Ann Arbor) is now home to three of the four major monthly car magazines," according to the blog.
Information on where the magazine's office will be based was not available. Hearst will keep the Road & Track office in Newport Beach, Calif., open through fall.
Car and Driver was acquired by Hearst in 2011 as part of an $887 million deal.
That magazine is based in Eisenhower Commerce Center. The previous owner leased 10,000-square-feet there in 2008 for its then-35 person staff.
It moved to Ann Arbor in 1977 under then-editor David E. Davis, who died in 2011.
Also based in Ann Arbor is Automobile Magazine, which was founded in 1985 by Davis after he left Car and Driver.