Posted on
Fri, Oct 19, 2012 : 11:17 a.m.
Sale pending: Former Borders headquarters on Phoenix Drive under contract
By Lizzy Alfs
The 330,000-square-foot former headquarters of Ann Arbor-based bookstore chain Borders Group Inc. is under contract for sale, the listing broker confirmed this week.
Jim Chaconas of Colliers International said the buildings on Phoenix Drive — which he listed for sale in April for $6.9 million — are close to being sold, although he wouldn't reveal the details of the deal.
"The Borders headquarters is under contract," he said. "Unfortunately, I can't say to who, I'm keeping it undisclosed, but it is under contract with a significant backup offer behind it."
The campus consists of two buildings: one that's approximately 87,000 square feet and one that's about 243,000 square feet. They were built in 1970 and renovated in 1998, and the property has more than 1,200 parking spaces.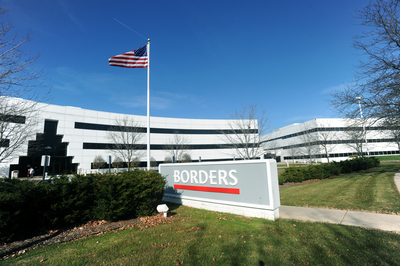 AnnArbor.com file photo
Colliers marketing materials
The property has been vacant since last year when Borders liquidated its assets and moved out. Cell phone recycling firm ReCellular Inc. also moved from its 13,000-square-foot space on the campus to a location in Pittsfield Township at the end of 2011.
When the property's former owner, Farmington Hills-based Agree Realty Co., defaulted on a loan last summer, Ann Arbor-based McKinley Inc. was appointed to serve as property and asset manager for the building. McKinley then hired Colliers to market it for sale.
Chaconas said now that a sale is pending, he's also marketing the buildings for lease to find potential tenants to occupy the space.
"We've got three people that we're talking to about taking some space," he said. He would not confirm the potential tenants.
He added: The nice thing about this building is it's the only building with a ton of parking …it's also a location right off the expressway."
One company that has expressed some interest in leasing the building is Ann Arbor-based Gold Star Mortgage. CEO Dan Milstein told AnnArbor.com this month that he toured the facilities recently and there was about an 80 percent chance that his company — which is experiencing a growth spurt — could move into the space.
According to a real estate listing, the asking rent for the buildings is an annual $9.50 to $12.50 per square foot.
"The new owner is willing to split up (the) building into suites ranging from 7,500 square feet to the entire property," the listing says.
Chaconas said the smaller building could serve as a headquarters for a large company that needs space to grow.
"The buildings are in excellent shape … . It needs a new build-out specific to what somebody wants, but it could be a call center, it could be somebody who wants to be able to expand. A lot of buildings you get into, you outgrow quickly. This one will be hard to outgrow," he said.
Lizzy Alfs is a business reporter for AnnArbor.com. Reach her at 734-623-2584 or email her at lizzyalfs@annarbor.com. Follow her on Twitter at http://twitter.com/lizzyalfs.