Posted on
Thu, Dec 1, 2011 : 5:58 a.m.
Holiday shopping 'madness' to swarm downtown Ann Arbor, Ypsilanti on Friday night
By Lizzy Alfs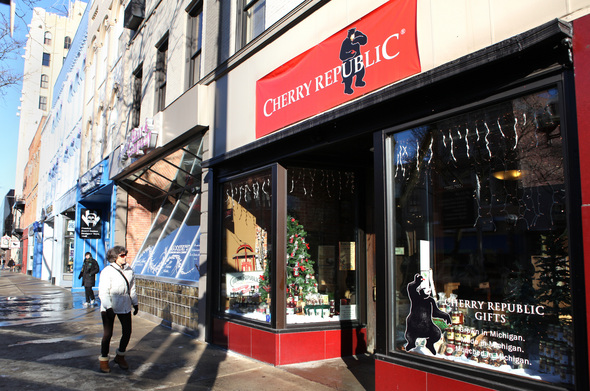 Joe Sainlar | AnnArbor.com
A week after
shoppers flooded malls and big-box retailers
for "doorbuster" deals and price markdowns, downtown
Ann Arbor
and downtown
Ypsilanti
are celebrating their own version of Black Friday.
On Dec. 2, downtown Ann Arbor is hosting its annual Midnight Madness event, where many retailers will stay open until midnight and offer in-store discounts.
Santa and carolers will be roaming the streets from 7-9 p.m., and Kerrytown will have live music featuring the Joe Summers Gypsy Jazz Quartet.
On the same night, Ypsilanti's Starlight Shopping Spree begins at 6 p.m. in downtown Ypsilanti's Library Plaza. There will be an appearance from Santa and his reindeer, carolers, free hot chocolate, Christmas tree lighting and shopping until 10 p.m.
The event in downtown Ann Arbor sets the tone for the entire holiday season, said Maura Thomson, executive director of the Main Street Area Association.
"It's probably the biggest night downtown as far as sales go and sidewalks being packed," she said. "It's incredibly busy. A lot of people in the community really look forward to it every year."
Various downtown Ann Arbor neighborhoods, including Kerrytown, Main Street, State Street and South University, participate and host events for Midnight Madness, which has been an Ann Arbor tradition for decades.
Keri Hardy, manager of Cherry Republic on Main Street, said the store will have a few Midnight Madness specials, such as buy six items and get a certain item for free, 10% off wooden and bath items, $5 off clothing and free samples of food and coffee.
Although it's Cherry Republic's first holiday season in Ann Arbor, she expects huge sales increases over the next few weeks.
"This is the time of year where we do the most business," she said. "I'm figuring out for us this is a big time of the year down here. We've had some of our busiest days in the past week."
For Adam Baru, the owner of Mani Osteria on East Liberty Street, this is also his first Midnight Madness.
To participate, he's extending the restaurant's hours until 1 a.m. Saturday morning and offering happy hour from 4-6 p.m. and 11 p.m. to 1 a.m.
"We're obviously hoping that being in between State Street and Main Street, that it will be an opportunity to see more people come through the door," he said.
Baru said one thing he's noticed and he hopes continues is Mani regulars bringing out-of-towners into the restaurant during the holidays.
"People who have become regulars and supporters are excited about the restaurant and they brought in family and friends over Thanksgiving week," he said. "It was really, really cool."
Although her downtown gallery Selo/Shevel - which started in Ann Arbor in 1982 - doesn't offer Midnight Madness discounts, Elaine Selo said it's still a busy night with people browsing.
"We don't really put anything on sale," she said, "though we always love to see all the people that come in looking for new and special things. I consider it part of a festive holiday for downtown."
"If the last several weeks are any indication," Selo continued, "I think we're going to have a wonderful holiday season."
For a list of Midnight Madness sales and hours, check out the Main Street Area Association website. For more on the Starlight Spree, check out the Downtown Association of Ypsilanti.
Lizzy Alfs is a business reporter for AnnArbor.com. Reach her at 734-623-2584 or email her at lizzyalfs@annarbor.com. Follow her on Twitter at http://twitter.com/lizzyalfs.