Posted on
Sun, Oct 7, 2012 : 5:59 a.m.
Saline restaurants will add outdoor seating in alley
By Ben Freed
Two downtown Saline restaurants on Michigan Avenue will be able to expand by adding new outdoor seating in an alley off Ann Arbor Street.
The Saline City Council approved lease agreements with Brecon Grille and Mangiamo Italian Grill last week.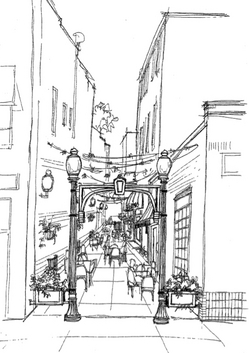 From Saline City Council Agenda
The agreement to lease the space for $1 is the most recent step in the process to turn the alleyway into a new source of revenue for the restaurants, a new outdoor seating location for patrons, and a more attractive area in downtown Saline.
"To have it cleaned up and being given the opportunity to utilize that space… it was just a no-brainer for me," Brecon owner Paul Geragosian said. "It makes the city that much more attractive and appealing."
The city has contracted with Saline Main Street, a relatively new organization that has been championing the alley project as one of its initiatives, to make up to $10,000 worth of improvements to the alleyway including a gate and better lighting. The individual restaurants that will be providing seating in the alley will pay for any additional improvements as well as tables, and chairs.
"I think it's a win-win for everyone," city manager Todd Campbell said.
"Part of the lease says that up to six times a year the space can be used for public events. That could be an extension of Summerfest or something different that we're not currently doing to utilize that space."
For the past year, Saline Main Street's design team, chaired by Rebecca Schneider, has championed the proposal for the alley's rejuvenation.
"This is the beginning of creating more inviting spaces in Saline," Schneider said.
"There are a lot of creative things you could do with the space. We could have dynamic art displays or a wine tasting. We discussed doing an "alley cat adoption" program where groups with kittens or cats for adoption might be able to use the alley for a day to promote their cause."
Geragosian said it's probably too late in the season to make the necessary improvements and open outdoor seating in the alley this year, but he is looking forward to next spring when he anticipates the added seating will appeal to different crowds and mean new revenue for Brecon Grille.
"I think the alley will be appealing for people looking for a little more quiet area than out on the main street," he said.
"The sun comes into the alley and there's a nice breeze back there, people could rent it out for a small party or get-together without feeling like they're right on the street."
The alley can be seen here to the right of the Little Caesars Pizza:
Ben Freed covers business for AnnArbor.com. Reach him at 734-623-2528 or email him at benfreed@annarbor.com. Follow him on twitter @BFreedinA2