Posted on
Mon, Apr 25, 2011 : 5:55 a.m.
Saline entrepreneur turns around a 'neglected' Benito's Pizza outlet
By Julie Edgar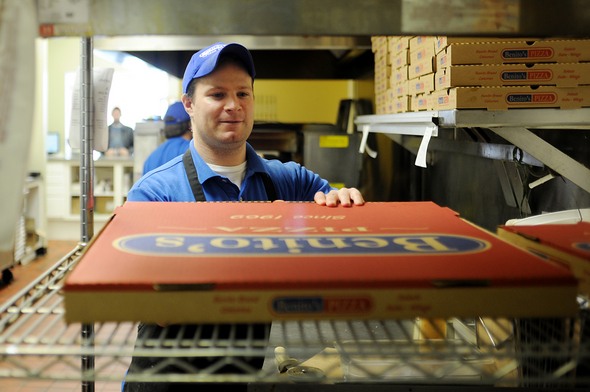 Melanie Maxwell | AnnArbor.com
Nick Wallen got married, bought a house, became a father (and is expecting another in the summer), and bought into a pizza franchise — at the ripe old age of 23.
The Saline resident and 2005 graduate of Saline High School is clearly mature beyond his years, but a prime reference point for Wallen is still high school. He is proud that, as a member of DECA, an independent marketing program for students, he created a 20-page proposal for an employee training program at a hypothetical pizzeria that won a state competition.

It still stings a bit that he didn't win at the national level, but he didn't give up. Entrepreneurship — and pizza — seemed to be in the cards. So after graduation, Wallen went on to earn an associate's degree from EMU in business management.
A few years later, Wallen became new owner of a Benito's Pizza store in his hometown. He hadn't planned on leaving a management job — at a Domino's Pizza store nearby — but opportunity came knocking. He saw that the store, one of the company's 10 corporate locations, had been neglected. He approached the Livonia-based company and convinced it to sell the location to someone who would turn it around — himself.
The company was happy to sell to someone who knows the Saline market, he says. And it was a great deal.
"The store we bought had been here for 10 years. The value you get from buying an existing business is like purchasing a store at 50 percent off," Wallen said.
Benito's has 25 locations in Michigan and one in Arizona.
Wallen invested $70,000 to buy the 2,000-square-foot store and then left it to his wife, Amy, to give the interior a facelift. It cost a few thousand more to repaint the walls, refinish the furniture, redo the menu in chalkboard style and hang some nice pictures to turn the Michigan Avenue store into a wireless Internet hotspot.

Most of his business is delivery, but he'd like to make Benito's even cozier to encourage sit-down diners. He opened his doors on Feb. 28. A grand opening is planned for May 1.
Wallen says Benito's is distinctive for a few reasons: it offers the Big Benito, a 24-inch pizza for $20, and all toppings are prepared fresh every day. The restaurant also offers pasta, salads, sub sandwiches and chicken wings.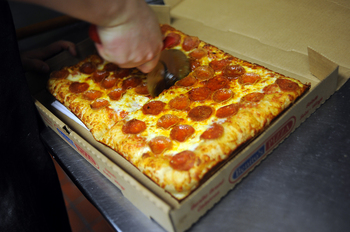 Melanie Maxwell | AnnArbor.com
"One of the things that drew me to Benito's was attention to detail and quality of the products," he said. "We cut our ingredients fresh daily. We're here in the morning preparing. You don't find that at other franchises in the area."
More essential to its success are happy employees, Wallen says. He employs 10, most of them part-timers who are students at Washtenaw Community College or EMU. Some are longtime friends, like his senior assistant manager, Joe Sheridan, a high school football buddy and former colleague at Domino's. He's been vital in getting the business up and running, Wallen said.
"The biggest thing I learned in business management is that good employees are your best asset," he said. "I make sure to bring in good people, local people I know. In pizza, you're only as good as the guy next to you. If I'm making pizza and the phone rings, you need someone to grab the phones and hop on the oven so you make sure your service times are good."

Wallen said he offers competitive wages and flexible schedules in keeping with his "family first" approach.
Sales were up 15 percent to 20 percent in March, Wallen said, and he expects monthly receipts to be at the upper end of the $30,000 to $40,000 range.
So far, he says, he's been getting positive feedback.
"The customers are excited about the changes. My staff is in proper uniforms, it's clean. It's exactly what you want when you walk into a restaurant," Wallen said.
Julie Edgar is a freelance writer for AnnArbor.com