Posted on
Tue, Apr 13, 2010 : 12:17 p.m.
Saline Mayor Gretchen Driskell and daughter injured in crash after 'barrier came flying at them'
By Nathan Bomey
Saline Mayor Gretchen Driskell and her daughter Marielle were involved in a serious car accident Friday night in Cordele, Ga., on their way back from a spring break mother-daughter trip to Florida.
Marielle, 15, is in intensive care in a Georgia hospital after undergoing an operation to treat a serious foot injury she suffered from the high-speed accident, Saline City Council member Alicia Ping said.

Marielle also has other leg, arm and hip injuries. The mayor has a minor foot or ankle injury.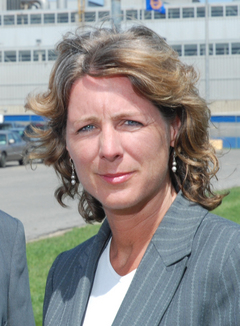 Marielle, who has been active on Facebook since the accident, faces a lengthy period of recovery, people familiar with the accident said. Friends set up a Facebook page to support her.
"She's really worried about other people worrying about her," Gretchen Driskell said in a brief interview this afternoon. "She's joking and she's doing well."

Marielle, a student driver, was driving north on I-75 in Georgia on a stretch where heavy construction narrowed the freeway to two lanes separated by a concrete barrier, Ping said.
A serious five-car crash on the southbound side of the freeway caused a tractor-trailer to slam into the concrete barrier, causing the barrier to hurtle into the Driskells' vehicle, Ping said.
"The barrier came flying at them," Ping said. "It wasn't that it just got pushed over and they hit it. It was moving at them."
Gretchen Driskell said they had been on the road for about 30 minutes after the trip to Florida, where they camped and visited Disney World.
"We were just driving along, minding our own business and the next thing you know this thing is flying at it us," she said. "It was pretty shocking."
According to a report by WALB-TV:
>State Troopers say the driver of the Jeep driving south on the interstate parked in the right lane near the Georgia Highway 300 exit ramp to read a map around 9:45 Friday night.

>A pick-up truck stopped when it saw the parked car. A delivery truck hit it. Then a tractor trailer hit the delivery truck and ran into the concrete barrier, knocking it into the north bound lane.

>Six cars were involved. Troopers say 15-year old Marielle Louisa Driskell suffered a crushed femur. She was driving north in a van when she hit the barrier. Rescue crews used the Jaws of Life to get her out.
"They're both in good spirits," Ping said. "Gretchen was just so happy they were both alive."
Saline City Council member David Rhoads, who said he had corresponded with Driskell by text message, and Saline City Finance Director Lee Bourgoin said the accident wouldn't disrupt city business.
Driskell, a Swisher Commerical real estate agent, is widely considered
one of the region's most popular politicians
. She's in the midst of her
sixth 2-year term
as mayor of Saline. She's also the city's longest-serving mayor and its first female mayor.
"She's done an amazing job," Rhoads said. "We're all very appreciative of the leadership she's provided to the community, and I think we are in as good as shape as we are because of her."
Contact AnnArbor.com's Nathan Bomey at (734) 623-2587 or nathanbomey@annarbor.com or follow him on Twitter. You can also subscribe to AnnArbor.com Business Review's weekly e-newsletter or the upcoming breaking business news e-newsletter.